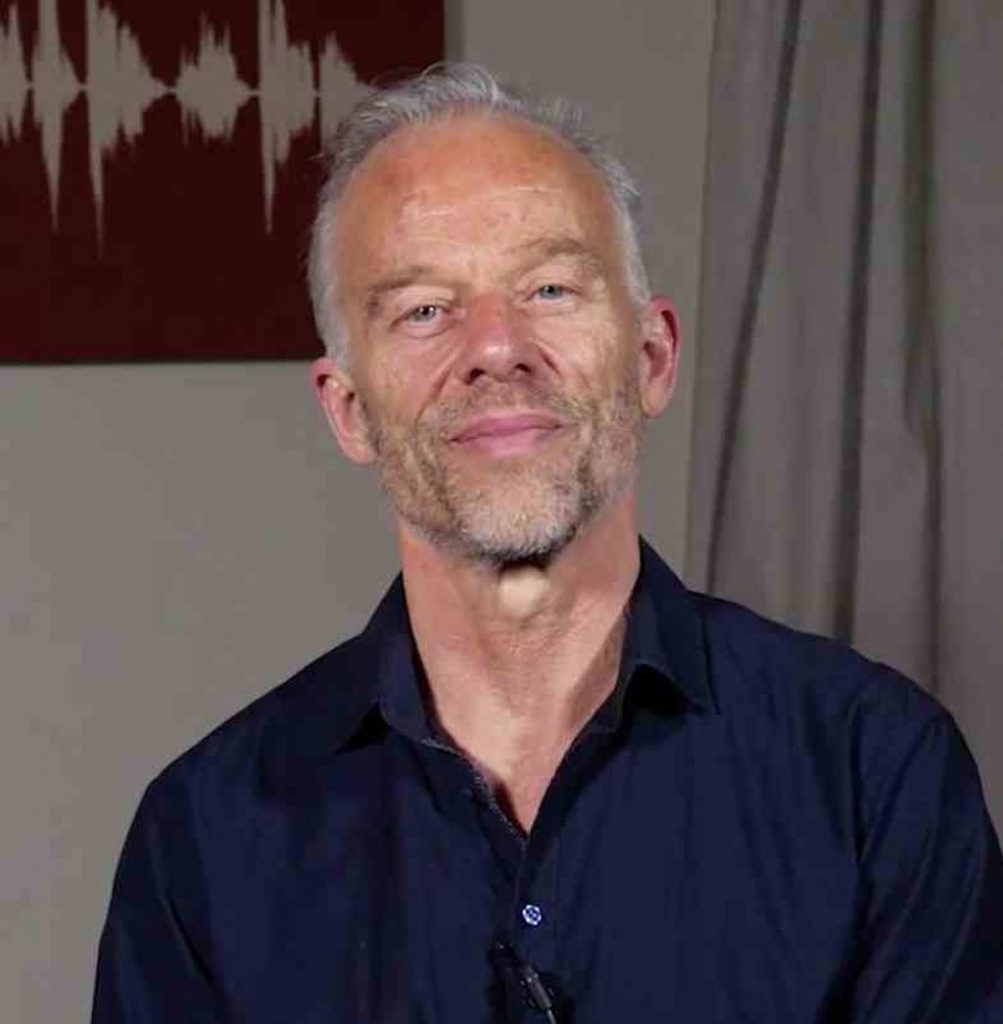 On Monday August 16th, Rod Stryker sent an email out to his database confessing that from "August 2018 to September 2019 I engaged in an intermittent, but consistent emotional relationship with a student that culminated in a single physical and intimate interaction." A power abuse had happened.
He went on to say that this violated Para Yoga's Code of Ethics, and that he was sorry – to his wife, his children, his students, the teacher's he's trained, and their students.
"I've always been open about the fact that I met my first wife––with whom we would bring two children into the world––in my yoga class. There have been two other exceptions. The most recent was the last."

Rod Stryker
It's now August 27th and Rod hasn't posted on his social media since August 16, nor is there any mention of the teacher/student relationship power abuse violation on his website.
So what prompted Rod to finally come clean, a year after the teacher/student relationship ended?
It was an open letter, sent to the yoga community, written by the woman involved. She had been prompted to write her letter because of another email newsletter, sent out by Octavio of The Practice, in Bali.
Octavio was a student of Rod's for about six years, and had directed the woman to Rod's teachings in 2017. On August 6th, Octavio send out a newsletter sharing that:
If you've been following The Practice for a while, over the last year and a half, you will probably have seen us move away from being affiliated with a certain Yoga school and more specifically, a certain teacher. Let's call him 'Bob'. The posters are down and the references on the website are no longer there. There's a reason for it and I'll tell you the reason.

I used to respect Bob a lot, perhaps I even uttered the 'G' word a few times in his direction, which is why I didn't say anything sooner – out of respect…

…

Bob taught me this: As our deeds, so is our destiny.

Absolutely correct, and now destiny is coming in hard. Like a sledgehammer.

This is what he also taught me, as it relates to holding the 'sacred' seat of the teacher:

• Don't have any secrets.

• Be accountable for your actions.

• Don't hide behind the lineage.

• Be a complete person and make sure the teachings translate off the mat.

• Don't sleep with students.


Five strikes and you're out. And you ARE definitely out, Bob. So I can no longer in good conscience send students to him, without feeling that I am out of alignment with myself, based on what I now know has transpired, directly from those involved.

Octavio, The Practice, internal newsletter (full version here)
Another one bites the dust
Another one bites the dust
And another one gone, and another one gone
Another one bites the dust, yeah
OK, that was me, riffing on Queen. Rod hasn't necessarily bitten the dust. Although, on reading the Open Letter from the woman he was involved with, it's clear that Rod's 'apology letter' was woefully inadequate and reveals that he still doesn't understand the power abuse issues inherent in the teacher/student relationship.
Rod's email comes across as nothing more than damage control, rather than fully owning and beginning to make amends for the power abuse that happened.
Prior to the Open Letter, Rod was claiming that the woman's experience was untruths and delusions. Fortunately she kept all their communication over the year-long relationship period, despite his instructions to delete it all. Discrediting the woman speaking up is a power play – not the mark of a man taking responsibility. It's yet another power abuse.
I was constantly asking myself why I was continuing these conversations when I knew as a single mother living in Australia at 29 years of age that I didn't want a relationship with a 61 year old man in the US or anything more with him, other than him being my teacher. I honestly felt the weakest that I had ever felt before, I found myself saying things that I didn't mean to impress him and although I would usually consider myself to be quite a strong, straight to the point person. It was like I could no longer think for myself. Even when I had to attend parenting duties or teach a class at my studio, he had an expectation that I would almost clear my schedule if he wanted to talk at a certain time.

Open Letter to the Yoga Community
It's worth noting that Rod pursued this student, at a vulnerable time in her life. He asked her out to dinner on the first Training, and she said yes, thinking a group of students were going. But it was just her and Rod. This kind of patterning continued – being singled out for attention, told she was special, told they had a connection possibly from a 'past life'. It's almost textbook… and yet it's the student who eventually fronts up and reveals how much shame she's feeling for getting caught up in the situation.
When it was over …I literally felt like I had been released from a spell. I know that that sounds ridiculous and I am not saying that I am a victim, as I said I am a big girl. I made my own choices but I do believe there was a pretty large power difference. I do believe the Para Yoga code of ethics was broken and I hope that he has not continued to use the teachings to capture the attention of young women for his own personal gain. I was not out to get Rod. I never wanted this to get out. I have held way too much shame about it.

Open Letter to the Yoga Community
So who is Rod Stryker?
He's a prominent American teacher on the international scene – the kind that does Yoga Journal conferences and Wanderlust – with a long history of teaching (he started in 1980). He's written a book – The Four Desires – and is the founder of ParaYoga®. He began teaching teachers in 1989. The guy has depth. He's been living, breathing, teaching and studying yoga for more than 40 years. Yet inklings of power abuse issues have also been present for many decades.
Raised in Los Angeles, Calif., Rod attended Beverly Hills High School and Denver University, in addition to studying abroad. He began his study of yoga at the age of nineteen. Called to teach early in his studies, he taught his first yoga class in 1980 and his first teacher training in 1989. After nearly two decades of studentship, Rod became the only American disciple of Kavi Yogiraj Mani Finger and Yogiraj Alan Finger to be given the title Yogiraj—master of Yoga. Since 1999, Rod has been a student of Pandit Rajmani Tigunait, Ph.D., and a lineage holder in the tradition of Sri Vidya.

Yoga International
Sri Vidya is a Himalayan tradition is said to be "an unbroken lineage dating back to legendary teachers such as the great sages Dattatreya and Vasishtha and historical masters such as Adi Shankara and Swami Rama."
Swami Rama was Pandit Rajmani Tigunait's guru, so you could say he's Rod's guru's guru. Although Rod didn't become Pandit Rajmani Tigunait's student until 1999, and Swami Rama died in 1996.
Swami Rama was the founder of the Himalayan Institute. Whilst there's no hint of it on the Himalayan Institute's website, Swami Rama faced lawsuits in the 1990s over sexual abuse with his students stemming back to the 1970s. That is, an on-going pattern of power abuse within the guru/student relationship.
"In July 1994, two lawsuits were filed against Swami Rama, the spiritual leader of the Himalayan International Institute of Yoga Science and Philosophy in Honesdale, Pennsylvania. The civil suits followed decades of reports of sexual improprieties, including a 1990 magazine article that detailed instances of sexual misconduct and several individuals' efforts to alert Himalayan officials to the abuses."

Article • Soul Betrayal
"The plaintiff testified that she engaged in sexual relations with the Swami Rama during a three or four month period at the Himalayan Institute in Honesdale when she was 19 years old and a member of the Institute. The plaintiff alleged that the Swami Rama abused his position as an Indian spiritual leader to secure the young woman's consent to sexual relations. The plaintiff testified that at the time the incidents occurred, she believed that the spiritual leader knew what was best for her and that she should not disobey him. The plaintiff claimed that the Swami Rama intentionally inflicted emotional distress on her, acted maliciously and with a conscious disregard for the welfare of the plaintiff and was acting as an official of the Institute in so doing.

The plaintiff called seven women who testified to having sexual relationships with the Swami Rama. Several letters notifying the Institute of the Swami Rama's alleged sexual misconduct were also introduced into evidence. The plaintiff contended that the defendant was aware of the Swami Rama's inappropriate behavior and took no action to investigate or halt the sexual abuse of its followers."

Jury Verdict website
When Pandit Rajmani was questioned about Swami Rama by Katherine Webster for an article in Yoga Journal in 1990, this was his response:
Pandit Rajmani says he did not feel any responsibility, as spiritual counselor to the women who had approached him for help, to investigate their complaints or question his guru. I informed him that I had interviewed women who sought him out because they respected him and trusted him to be interested in the truth. His response: "Listen, there are certain things which are based on witnesses-those are facts. But something, which is truth, cannot be falsified by having one hundred witnesses. If a hundred people come and say that the day is night and I know that it's not, the voting system doesn't do it here, you know?

"Believing such stories means disbelieving in myself. Because that's my whole life& My relationship with [Swami Rama] is purely divine and spiritual-there cannot be impurity in it, and there is no room for such thoughts. I might doubt my own perception, I might doubt my own eyes, but I cannot doubt that strength which has given me everything."

If somehow Pandit Rajmani were forced to acknowledge that the women were telling the truth, would this shatter his faith in the guru? No, he says: "Even if it happened, what's the big deal? People say that Mahatma Gandhi slept with women. God knows whether it was true or not, and even if it was true, this is a normal phenomenon. And that did not undermine Mahatma Gandhi's work!& No, this would not be shattering, certainly not. My father certainly had sex, and that's why I was born, so will I lose faith in my father?

"Even if I found out-how can I find out? Because I do not want to find out. There's no need for finding out, if I know it is completely wrong."

The Case against Swami Rama of the Himalayas, Yoga Journal
There's a word for this – cognitive dissonance, a term for the state of discomfort felt when two or more modes of thought contradict each other. How can the guru be abusing women on a regular basis?
It's clear from the quote above that Swami Rama's student – and lineage holder – Pandit Rajmani Tigunait was struggling to make sense of the information that his guru had sexually abused a number of women over a period of years. By the time he took Rod on as a student, nine years later, was he any clearer?
Does this background of power abuse have anything to do with Rod's actions?
He's a lineage holder in a lineage marred with sexual abuse scandal that appears (based on the Himalayan website) to have been swept under the carpet. I couldn't find a positional statement1 from Rod anywhere about Swami Rama's actions, and Rod's relationship to the Swami's action as a lineage holder in that same tradition.
Although I did finally find this interview where he speaks about Swami Rama.
Rod begins by framing the question about Swami's sexual abuse from the perspective that 'Swami Rama was a master, one of those, who would be understood by only a few of us.' It's reminiscent of the cognitive dissonance displayed by Pandit Rajmani Tigunait when asked about the Swami's behaviour. Rod also states that he 'did some research', which included talking to senior members of the Himalayan Institute – those most invested in maintaining Swami Rama's innocence, and also some ex-students and students.
Despite his research, he completely dodges the question of how he made sense and made peace with the Swami's abusive actions, and even says 'I think this is still a burning question'. He also assert that 'I have a daughter. So I'm very sensitive to the idea of sexual abuse or sexual harassment, especially from a teacher.' Being a father to a daughter does not exclude men from being sexually abusive – again, it's a subtle framing technique designed to steer the conversation.
Eventually Rod simply excuses the sexual abuse by saying:
…a true master can look beyond the situation – into the laws of cause and effect. The Master looks into the ultimate cause and effect differently than most of us can. And he can actually predetermine certain outcomes. Does that mean it is good or moral from our point of view? – No. At the same time one can imagine that the whole idea of right and wrong starts getting distorted, when we step out of duality. So it's a very complicated thing. So if I just say I am studying this tradition in this lineage, because I have found peace with the answer and I trust the teachings. The teachings are alive completely, they are alive in me, they are alive in my teacher. This place is my spiritual home. And yet the idea of inappropriate behavior around male or female students for me is completely unacceptable.

Wild Yogi Interview
Rod might say that inappropriate behaviour – like inviting students out on dates, courting them, buying them gifts, and sleeping with them – is completely unacceptable, yet that's what he's done. "Sleeping with students" is a euphanism too. More on that soon.
Rod is bound by Para Yoga's code of ethics. He's broken those ethics. He's acknowledged this, a year after the event, in an email newsletter, because he was outed by the woman in question and a former student of his. There's been no public acknowledgment of what's unfolding. That smacks of damage control rather than taking responsibility. Is he waiting for it all to blow over, just as the Himalayan Institute did?
There is one more aspect of Rod's life I want to draw attention to. That yoga student he met in class in his forties and married a few years later was Cheryl Tieg, the famous 1970s supermodel. She was 53 at the time, with a ten year old son. She did not want any more children. Rod did want children. A bargain was struck – they would have children, but Cheryl wouldn't have to use her body. Her egg, his sperm, another woman's womb – surrogacy. Twin boys were born. A year or so later, they divorced and Rod was awarded custody.
Yoga instructor Rod Stryker's lawsuit comes just one year after a vicious divorce left him with custody of the 2-year-olds. "Cheryl and Rod should get the award for best black-and-blue divorce," a Hollywood insider declares. "They've been slugging it out like a couple of boxers."

Star Magazine
What happens when a popular male yoga teacher gets into a relationship with his student, a woman 10 years his senior? There's a power abuse to begin with – teacher/student.
How does that power imbalance play out in their relationship? How does a woman who doesn't want more children end up saying yes – to her great regret?
"I just cried for months and months before the babies were born, and for months afterward. I was so scared of losing myself. But it can be so overwhelming. I was so afraid.

Celebrity Mirror
Cheryl takes responsibility for her choice in this article.
Why then, I wonder, did she embark on such a demanding adventure? "Because my husband is 10 years younger and had never had a child," she says. "When we married, I agreed that I would try. I just could not say to him that I have Zak and that I do not need more kids. I had the energy and the financial wherewithal. It was at his urging, and I agreed."

Mother at 53 – sort of, Flatrock
It was at his urging. And we're back to consent. 'I agreed', she says. Yet from a power dynamic perspective, in a relationship where there is an imbalance of power such as between a student and a spiritual teacher, the dynamic itself ensures that the possibility of giving consent has been removed.
That's the crux of student/teacher relationships. The possibility of giving consent has been removed. Which is why 'sleeping with a student' when the possibility of giving consent has been removed is so problematic.
There's a word for sexual relations with no consent. And remember, teacher/student relationships are never about the emotional intimacy, or the physical intimacy.
They are about power, and power abuse.
Power dynamics are inevitable and don't necessarily connote anything bad—but they can quickly turn bad when someone brandishes power over others and coerces them into things they wouldn't otherwise have done. Again, this is complex and there isn't an easy way to identify when a power dynamic has moved into toxic territory. And the fact that so much of this can happen incidentally and unconsciously only adds to the messiness of it all.

The Scientific Philosopher
Would Cheryl otherwise have chosen to have more children at 53 years old?
No. That's clear.
Which means – by definition – she was coerced. Which is a power abuse. As was Rod's latest student/teacher relationship.
The astrophysicist Katie Mack wrote 'If you are a person in a position of power over other people (and yes, being famous constitutes power) and you are not actively examining and questioning your use of power EVERY DAY, you are abusing it and you may be causing massive harm.' People with influence have extra responsibility to examine their use of power.

The Scientific Philosopher
If Rod – with all his study and practice and yoga history, and a strong Code of Ethics that I assume he assisted in authoring – can still fall into power abuse dynamics… what happened?
What was so seductive and alluring for Rod that he couldn't see through it and hold to truth (the first Yama in yoga) and right relationship to power? (Never mind his marriage vows to Gina.)
I have some thoughts on that, but they would only be speculation.
It's more beneficial to turn the spotlight around and ask myself, where do I abuse power? Where am I unconscious in my use of power? Where do I allow myself to be coerced, manipulated and abused?
This is where the benefit lies in examining this situation – not to cast blame, nor judgement, but to see clearly the dramas of the human condition played out on the yoga stage, and to see myself in each of the characters – in Rod, and in the woman. I am capable of playing either role, and the more I can see myself in each of them, the more I can burn through the attachments and aversions related to power that give rise to such situations.
And as for Rod, I'm real curious to see how he fronts up to this experience. According to Rod's email newsletter "I and the Ethics Committee recognize this as a serious matter. Thus, the committee has begun a review process outlined in the PY Code of Ethics."
What is involved in that review process? Will it all get swept under the carpet like at the Himalayan Institute? Is he staying quiet until the fuss is gone? It he examining his relationship to power, status and authority? Will a great teaching emerge from this fire?
Who knows… but stay tuned to the interwebs as all will be revealed in time.
References:
Footnotes:
What is a positional statement? It's clearly articulating the position you have in relationship to teacher or linage. This is a good example from the Yoga Nidra Network, issued after the Satyananda lineage scandal broke.