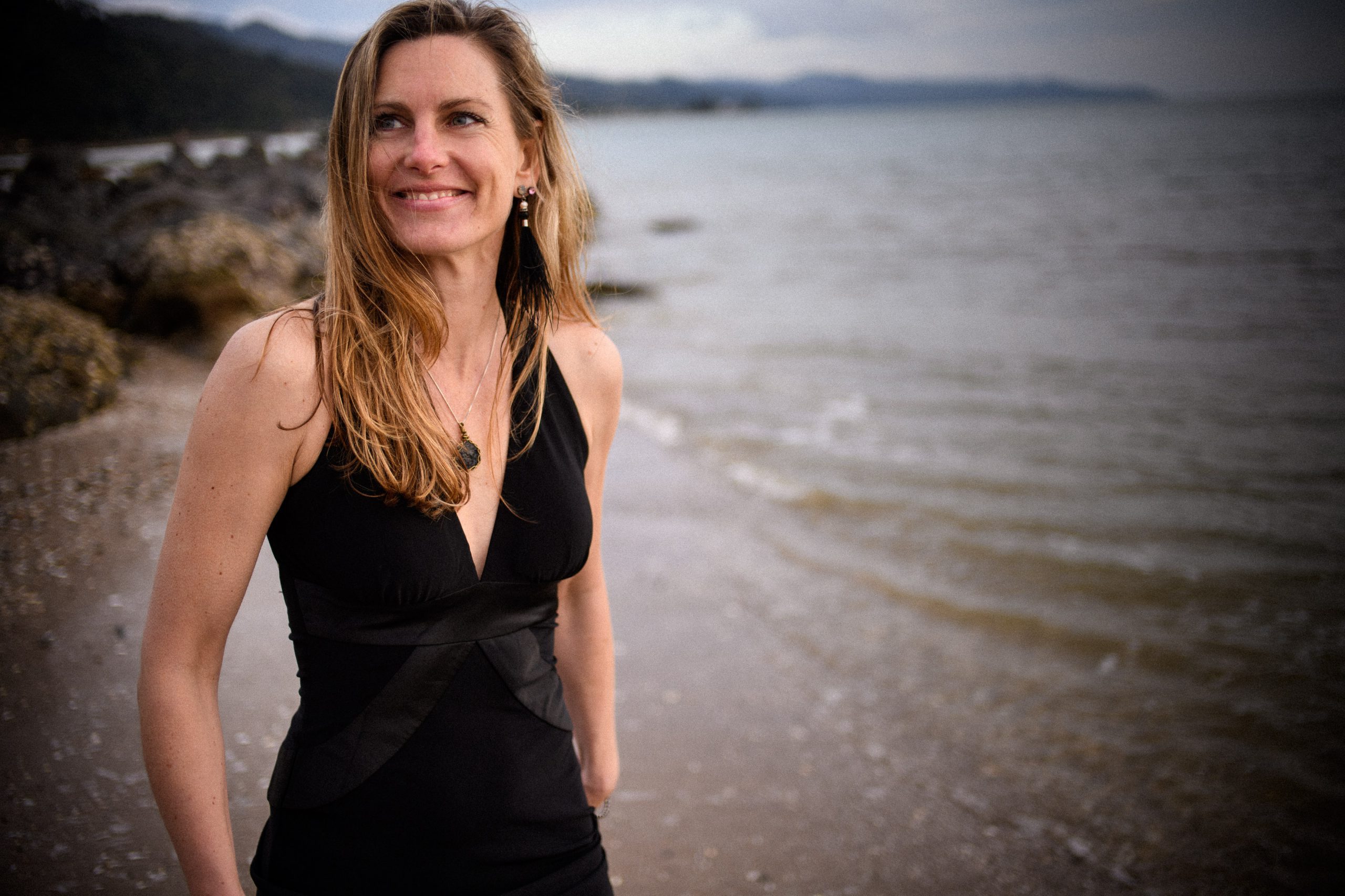 May all beings know love
May all beings know truth
May this be for the benefit of all
What's Currently on Offer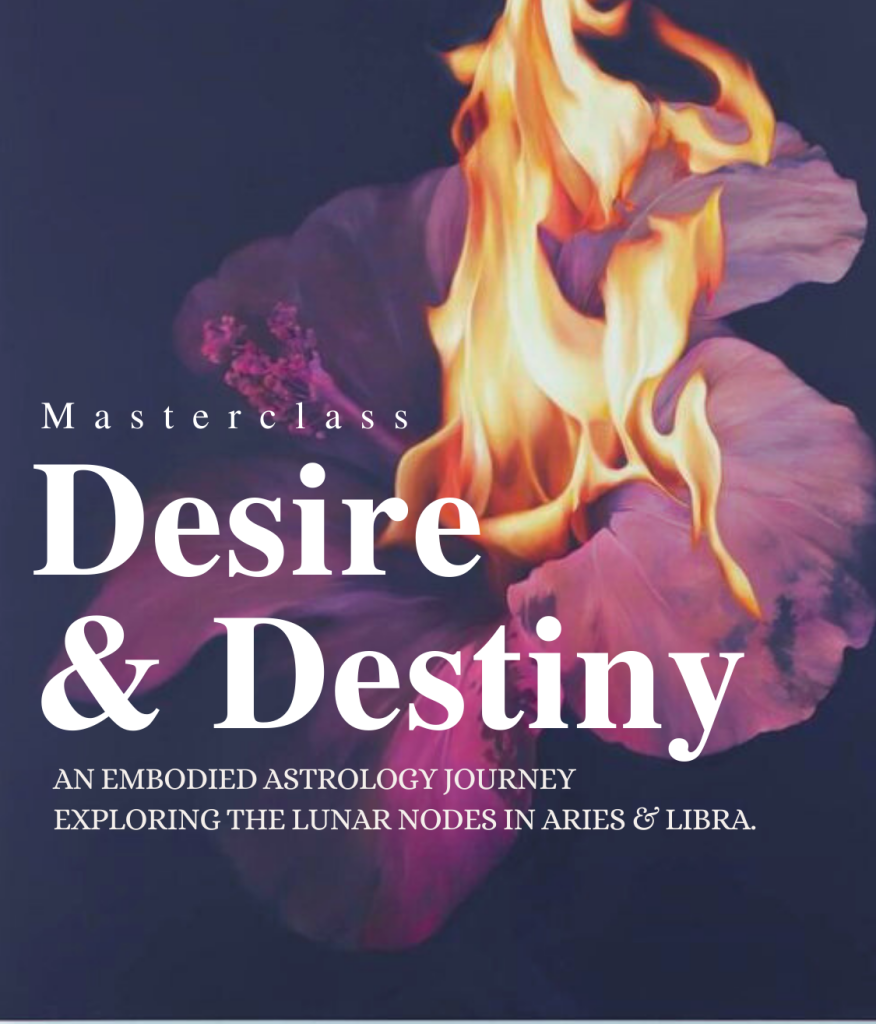 Desire & Destiny • Masterclass • $19NZ
Join renowned Tantrik Yoga teacher Kara-Leah Grant and embodied astrologer Lara Charlotte for a 2-hour dive into the wisdom current of this transit.
Be guided into a direct experience of authentic desire and unlock the evolutionary invitation arising for you through the Aries, Libra axis.
Advanced astrology knowledge is not required to benefit though having a copy of your birth chart will add a layer of insight for you.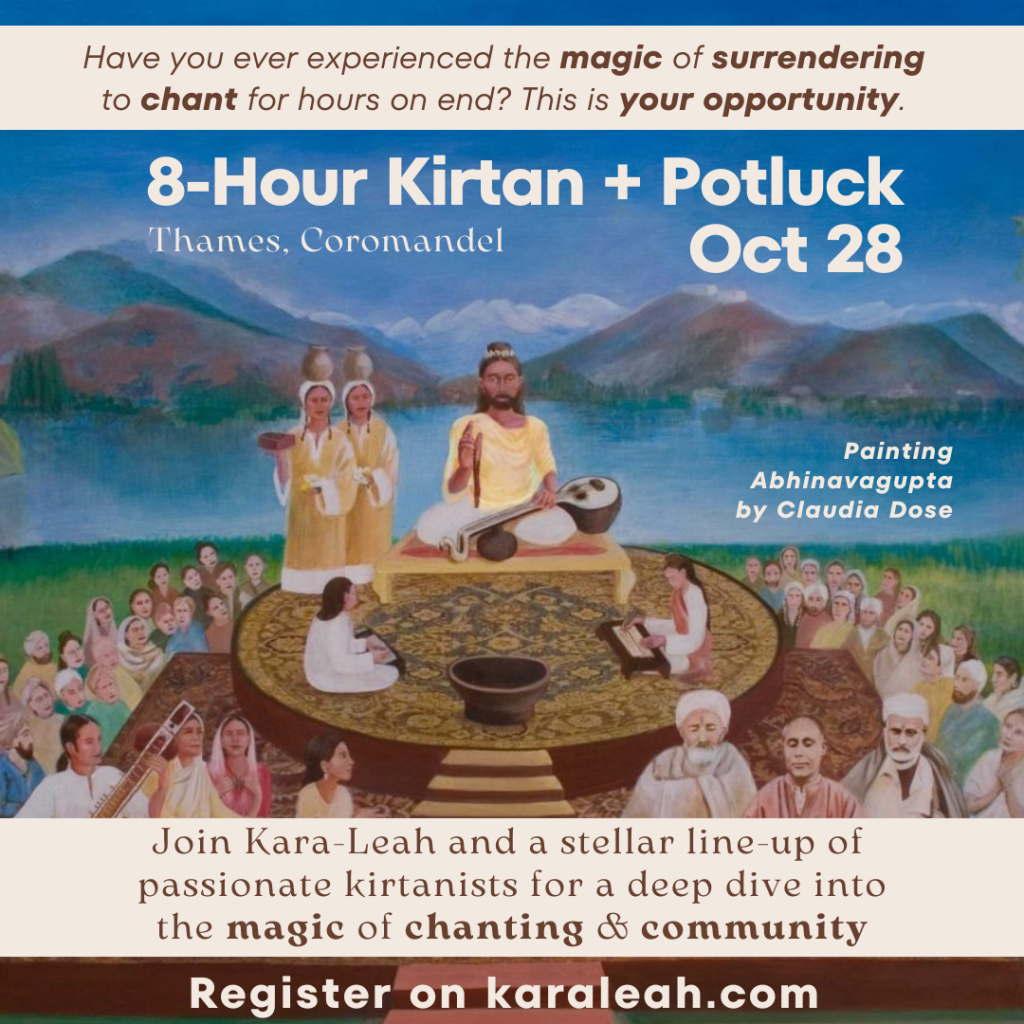 8-Hour Kirtan + Potluck • Oct 28
I'm pleased to announce an inaugural 8-Hour Kirtan at my house in Thames. This is your opportunity to experience the magic of surrendering to the chant for hours on end.
The event is run via the principles of the Gift Economy and participation is by gift, or dāna (a mutual exchange of generosity and abundance between teachers and students, or facilitators and participants).
Please arrive by 10:45am for an 11am start. There will be constant chanting until 7pm, and you can choose to sit and chant the entire time, or take breaks in the dining room or backyard.
We will conclude with a potluck dinner after 7pm. Register below.
More Details on Why I'm Holding this Event and Why You Want to Come.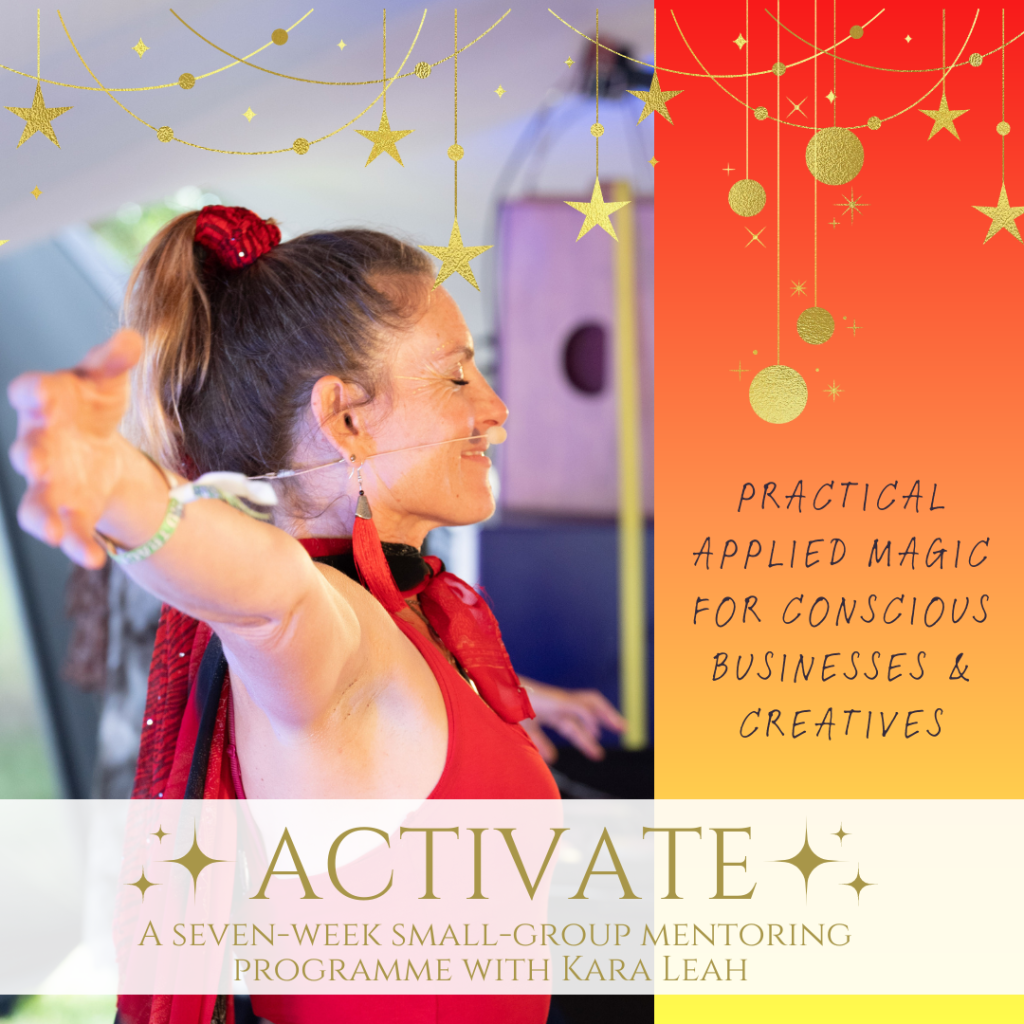 ✨ACTIVATE✨ • Small-Group Mentoring Programme
Mentoring + Practices + Frameworks & Teachings
Join Kara-Leah in this seven-week journey designed to support you in bringing YOUR project to fruition using the practical, applied tools of magic.
What? Magic?
Yes – magic, as in the ability to influence material reality (create) using desire, intention and inspired action. It's a very practical, skills-based course that WORKS!
if you want to take your business, or creative pursuits into the esoteric realm, this is the course for you.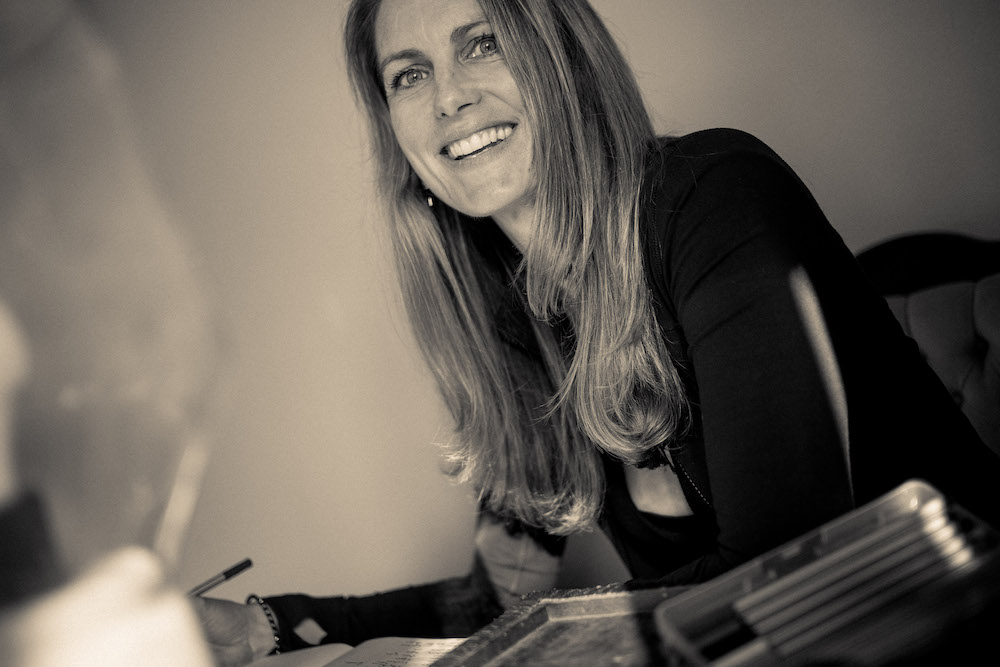 Mentoring & 1:1 Sessions with Kara-Leah
Kara-Leah has worked with hundreds of clients and students as a mentor. She helps people identify and dissolve their conditioning, reprogramme their operating systems (psyches), and step into their desired experience of life. Kara-Leah works with people for a minimum of three months in a container than includes weekly 1:1 Sessions, wrap-around support via WhatsApp or Telegram and access to The Toolbox which includes 100s of classes, talks, guided audio practices, and more.
Direct Realization Training Self-Directed Course
Join Kara-Leah for a Direct Realization Training influenced primarily by her journey into yoga, trauma-resolution and the Tantrik teachings of Trika Shaivism. This 6-week self-directed course is for people who are ready to cultivate a daily sādhanā and learn how to skilfully digest mental and emotional conditioning in the body. Includes in-depth teachings on the Ucchāra Practice, lectures on The Empowered Means, practices to work with the mental/emotional and energetic bodies, and access to a community Telegram group for support.
Latest Articles by Kara-Leah
When I work with clients in mentoring containers, we use desire and the will as our guiding North Star, and that North Star can sometimes point to desires like knowing ourselves as unconditional love. See, the first session of the mentoring container, sometimes the first two sessions, is dedicated to discerning what the client would… Read more

Today there were tears and a heart-opening surrender, but they didn't come on the mat during morning salutations like yesterday. Today on the mat, I felt strong, clear and powerful. These tears came after my daily morning sun salutation practice, as I sat and wrote my morning pages, reflecting on the last 24 hours. After… Read more

Oh dāna, that virtue referred to within Buddhism and Tantra teachings where we practice opening ourselves up to freely give with generosity and to therefore receive the benefits that accrue from this experience. I've deliberately been leaning into operating from dāna for a number of years now, as part of using a mixed model for… Read more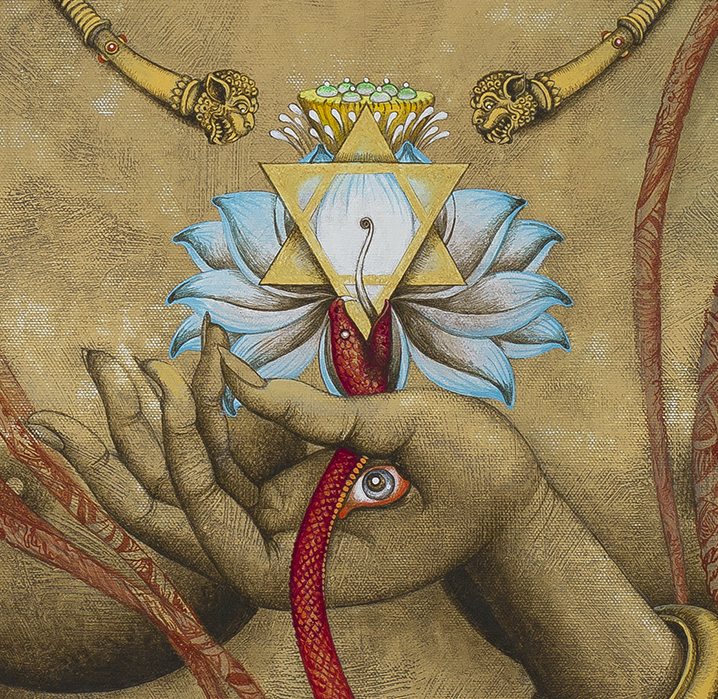 Become a Member of The Toolbox
Join a community of practitioners dedicated to realising the self, resolving their shit, and rejoicing in daily life and get the support and resources you need to go deeper on your spiritual journey. You'll gain access to our Libraries of Resources, The Beginner's Guide to Classical Tantra, Guided Self-Study of the Yamas & Niyamas plus receive 30% discounts on all pre-recorded courses & more.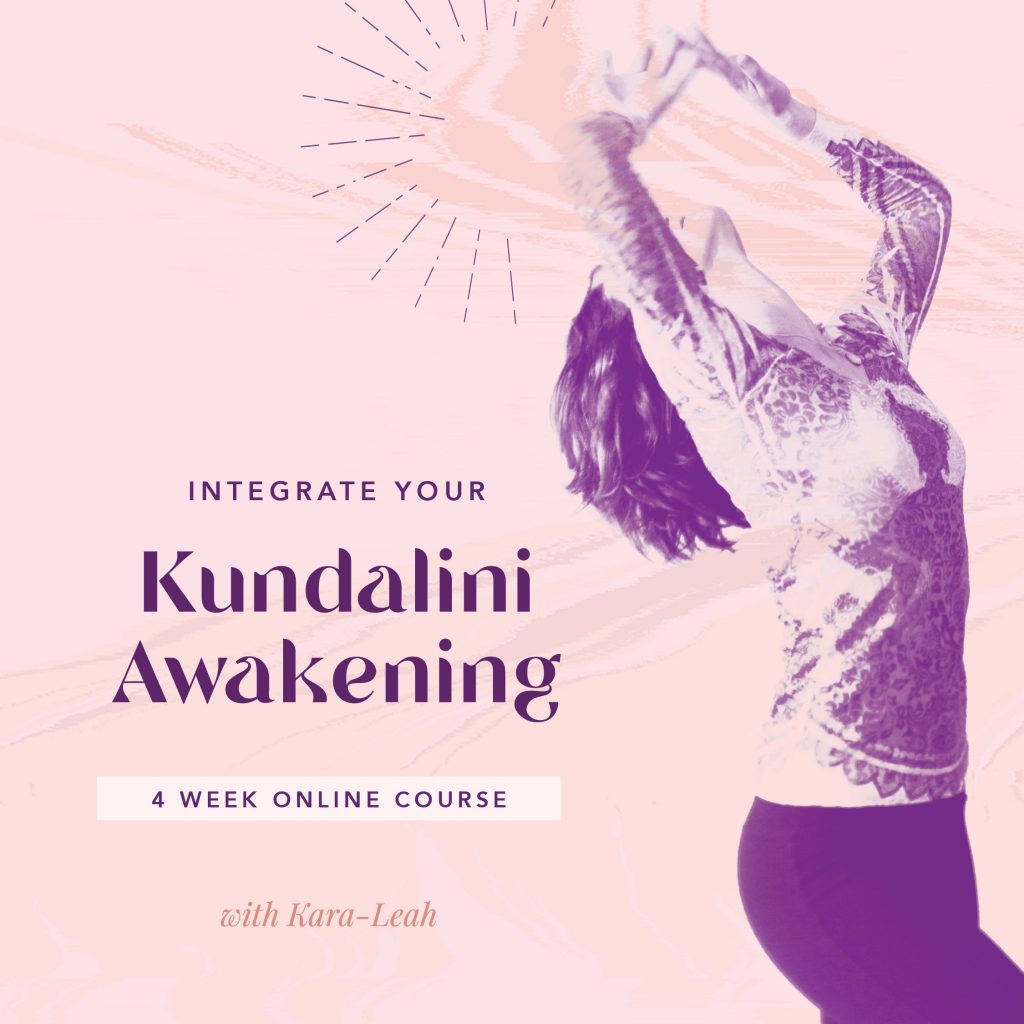 Integrate your Kundalinī Awakening
Join Kara-Leah on a four week course and explore the roadmap and practices necessary to integrate YOUR Kundalinī Awakening. Discover how to avoid the traps, obstacles and pitfalls along the way. Meet the challenges of Kundalinī Awakening with ease and make the most of the energy and wisdom now available to you.
Testimonials
"After only one 1:1 session with Kara-Leah, I experienced a profound shift so potent that the light it ignited has continued to shine in my heart ever since. The healing journey of releasing old patterns and limiting beliefs requires deep diving into our fears, which is at once no easy task and essential to finding clarity and making our dreams come true. Kara-Leah is there with you every single step of the way, listening deeply and supporting you in full presence and awareness. Holding space in unconditional love, she guides you fiercely and compassionately through the murk and into greater clarity, offering astute insights along the way that illuminate the very core of the matter. I left feeling empowered, clear, light and with tools that I could easily integrate into my daily practice to continue the inner work."
"Initially, I wanted to work on my struggles with a 15 year long anxiety disorder. Not only have I had enormous shifts with the anxiety I was experiencing, but many more areas of my life are shifting too.  This work is not just a symptomatic fix, but a total perspective shift, one which supports you in up-leveling every area of your life. Kara-Leah has such a grounded yet intuitive ability to get to the heart of the matter quickly. She communicates with a direct, kind, and unconditional presence. She is amazing at holding space so that I can go deep into whatever arises and whatever work needs to be done."
"The inner work I have done with Kara Leah in 1:1 sessions has been the some of the deepest, most transformational inner exploring and healing I have done. It is with a sense of ease that I allow my-self to dive as deep as is required, simply because I can feel her there with me, every step of the way and knowing that someone 'has your back' and is holding space for you with full awareness and intention, allows an unfolding of the layers within, to get to the heart of the issue. I couldn't recommend her more."