December 2010
By Kara-Leah Grant
My third eye has been twitching all afternoon, a sensation that started during my recent trip to LA for teacher training with Shiva Rea.
The last time I can remember it doing this I was sitting in a Wellington restaurant with my Aunt, who's a straight-up, salt of the earth, farmer, and local government politician turned Minister of Parliament.
I'd just flown back from Canada, about a week after having two psychotic episodes, being committed to the Acute Psych Ward of Lions Gate Hospital, and getting diagnosed as bi-polar and put on medication.
As I listened to my well-meaning, supportive, and loving Aunt tell me it was time to forget all about that Tarot Card rubbish and that I'd need to be on medication for the rest of my life as I was now Mentally Ill… I was tuning into this sensation of my third eye opening and closing. And wondering what she'd say if I told her what I could feel – probably that I was crazy.
Which I was, right? Didn't the psychotic episodes prove that?
Only I wasn't.
Something which had ripped through my psyche with all the force of a lightning strike, blowing out the fuses and stripping bare my unresolved mental and emotional issues, of which there were many.
I'd experienced Samadhi, I'd had visions of my life to come, and visions of the future of the Earth, I'd experienced things which were "impossible" under the laws of the material world as we generally accept them, and I'd had access to all the knowledge of the Universe.
I'd also experienced involuntary asana and prostrations plus had the added bonus of speaking in a hissing voice, mainly in an ancient-sounding language that my fiance suspected was Egyptian.
It's no wonder that after five or so days of increasingly bizarre behavior from me that he'd borrowed a car quick smart, hightailed it down to Vancouver, and deposited me at the psych ward. Nor was it any surprise that he broke up with me shortly thereafter. Must have been quite a trip watching me drivel on about the secrets of the Universe before breaking out in a hissing voice that spoke ancient Egyptian. I wish he'd had the foresight to videotape it as my memory of that time is patchy, and it would be fascinating to watch now.
Coming home was horrible on so many levels.
I was heartbroken, betrayed, financially bereft, plus after experiencing Samadhi, it was a shit-awful come-down to wake up and just feel… normal again. Normal but broken. And crazy. And also very aware of how very messed up I was.
To top it all off, I couldn't even talk to anyone about what had happened – that I suspected it was some kind of spiritual experience – because they would have thought I was crazy.
Nope, safer to just pretend I was mentally ill and lay low until I figured it all out.
One of the ways I sought to deal with this strange new reality was by writing a blog called Be Conscious Now. Writing has always been a way for me to process things, to get them out of my head, and make sense of what was truly going on for me. Doing it on a blog felt anonymous and safe. Other like-minded folks (the kind of people I struggled to meet in small-town NZ) found my blog and I joined a cyber-space collective of folk that made me feel not crazy.
Of course, local people did read my blog and thought I was crazy. So over time, as memories and the feeling-sense of that awakening faded, I began to see what happened to me as mostly an emotional and mental crisis, safely cocooned within a psychological framework. You know – avoidance of emotional pain fractures the psyche type thing.
I "forgot" what it felt like to be in a magical, sacred space, to work with energy, to align with Divine Consciousness, to feel the flow of life when you surrender to All that Is.
I'd even begun to discount the concept of Kundalini Awakening. After all, who the hell who I to have some kind of awakening? I must have been mistaken.
Then I went to LA and met Chris Tompkins. Or rather, listened to his explanations of awakening during our Tantra lectures, and did the practices of a Tantra Initiate. And it all came flooding back.
I again stepped sideways into that magical, sacred space that exists alongside our material reality – only this time I was grounded and had dealt with much of my unconscious crap so it didn't rise up as bizarre thoughts and behavior to ensnare me in insanity again. I could feel the flow, feel the energy, and I felt aligned with Divine Consciousness.
Most of all, it felt like coming home. The cycle that began in August 2004 finally came to fruition as all that I had seen and absorbed and understood during that first awakening was confirmed.
I wasn't crazy. It was an awakening. And now I can consciously work with it.
My entire time in LA, I was in that flow of magical consciousness. I could feel who to talk to, where to go, what to say, what not to say. I felt guided, and supported, and infused with light. It was effortless.
Ah… but then I came home, again, to New Zealand. And had to face an important test. I arrived in Auckland, called my partner, and within ten minutes of our phone call came thunking back down to Earth with an almighty whack. I literally sat down on the ground in some green space in between the international and domestic terminals and looked at my phone in bewilderment and thought:
What the hell just happened?
Indeed.
It's since been a trying time. But I knew exactly what was required of me, and I held fast to that course of action.
Keep an open heart, and speak my truth with compassion and love.
That was my test. And it's been hard. So many times I've wanted to close up, reject, walk away, see my partner as "The Other", or "Wrong" and in some minutes and some hours I have done that.
It's felt awful. I feel the world close up around me, get heavy and dark and closed off. I know the course of action required is to open up again, to accept and love and stay true and hold my boundaries.
So I have. And our relationship has grown and shifted and changed and grounded as a result.
And this afternoon, I find myself in that magical space again, feeling the world around me as luminous and open and spacious and expansive.
The third eye, she's a twitching alright.
Before I went to LA, there was a tiny bit of me that was scared about what might happen. I knew all that yoga and exposure to Shakti could trigger my Kundalini again. What if it also triggered insanity again? Was I grounded enough to cope with higher frequencies of energy moving through my system?
My last night in Auckland, after my unplanned two-day stopover there to sort out my visa issue, cleared up any doubts I had. It also made me realise that that two-day delay was Divine Timing alright. I'd had an interesting two days, being forced to step into a space of complete surrender and acceptance of my situation. I'd also had some strong synchronicities and dealt with some unresolved issues from my time in Auckland in 1995/6.
An incident in a bar where I was directly confronted by an older, powerful man because he believed I'd insulted him confirmed to me that I was ready to step into my power from a place of love, compassion, and understanding.
Falling asleep that last night, a time when I consciously meditate my way into dreamtime and open to whatever visions there may be, I saw a visual of the root chakra opening from the very center like a door. All fears of not being grounded enough melted away. I was ready to go to LA and finish the opening process that began in Whistler, Canada.
But with all finishing, come new beginnings.
Acceptance and understanding of the experiences I've had is one thing. Being able to integrate these experiences into daily life is another thing completely.
There have been relationship challenges, which showed me quick smart that the second I close my heart, I lose touch with Divine Consciousness (or whatever you want to call it).
There has been my tendency to live in my head, exacerbated at times by all the time I spend on the computer. Can't feel the flow when you're in your head!
And then there's been just all the ins and outs of dealing with daily life in 2010. Earning money, paying bills, looking after children, cleaning the house, minding pets… it's so much easy to stay open and present when the only thing you're doing is attending Yoga classes! And it's so easy to get sucked back down into daily drama!
I feel like I've been shown a different way to live though, and my challenge is to keep coming back to total presence.
Daily morning Tantra meditation grounds me in this state, asana practice helps me move through whatever needs to go, just stopping to breathe helps to connect me to the moment.
Truly listening while talking to people makes a huge difference. Maybe the biggest difference of all. When I can truly listen, it amazes me how much information is available in that moment. Far more than just the words coming out of people's mouths. Truly listening drops me into that magical space almost faster than anything else.
So does this all mean I'm now "awakened"?
Nope. Not yet anyway 😉
But I do have an awareness of what it's like to be enlightened. I'm beginning to suspect it's not necessarily like switching a light flick – bang you're awake! – and then that's it, easy street as you cruise through life all blissed out. Nope, I reckon, like anything, it takes practice. You gotta learn how to do it, and you gotta catch yourself when you start to slip down into the darkness of daily drama again.
It's like the difference between being awake and falling asleep but thinking you're still awake. (Awakened… funny that). The difference between being an actor on stage playing a character, and forgetting that you're actually an actor and believing you're the character.
It amazes me how often I'm still not present. I'll be home alone and suddenly notice that I'm doing everything really fast as if I'm on a deadline or trying to get somewhere. But there's nothing planned for the day and I'm my own boss. it's like watching a character on a sitcom, speed cleaning, and you just know she's avoiding something.
Or when I suddenly notice that even though I'm hungry, I'm avoiding food. I'm resisting the act of stopping to tune in and discover what I need to eat. That's always a big tell-tale sign – it usually means there's some kind of emotion I'm avoiding feeling. I'm not in my body, because I don't want to feel.
There's also a subtle resistance I've noticed arising to life itself. An undertow of lethargy, a greying of my day where nothing gets me excited and I just want to hide away. Also a sign there's an emotion that needs to be felt.
I'm so grateful that I'm now able to sense these changes in my internal self. And do something about it. Like practice asana, meditation or pranayama. Or cook a meal. Or water the garden, play with the baby, feed the cat. Whatever it takes to bring me into a place of acceptance and gratitude.
Invariably, one or more of these acts will trigger some kind of insight or flow of emotion. There'll be an 'a-ha' moment, some tears, and understanding, a letting go and then BANG!
I'm present again.
Until the next time, I go into avoidance behaviour.
I feel like I'm learning how to be human in a way that no one ever taught us at school.
And in the middle of all of this, I'm feeling Kundalini dancing in my spine, leading me through asana, showing me mudra, moving my meditations. In the time since I first noticed her presence, she's danced her way from my tailbone to my neck. Now she's venturing into the back of my skull. Sometime's she even sings to me – or maybe she's seduced me into singing to her. A soft, bee's hum of the Sanskrit vowel that looks like M with a dot above it, and sounds like NG.
Where this will all go, who knows?
What does it mean to feel your third eye twitch?
No idea – maybe I'm beginning to see clearly, or maybe I am not seeing clearly at all?
It doesn't really matter.
I just wanted to share a story with you. Stand on my soapbox for a moment and say, 'Yep, I feel Kundalini as a living force within me and you know what, I'm not crazy.'
I've said it now. Took me 2187 words, so if you stuck around this long, you rock. As for me, I'm going to go and meditate. Sit still really, and just let kundalini do her thing. Surrender to life you might say. It's taken me a loooooooooooooooooooooooong time to feel safe enough to do that – surrender.
And whaddya know, a third eye twitchin' just as I wrote that down.
Kundalini Awakening • What's It All About?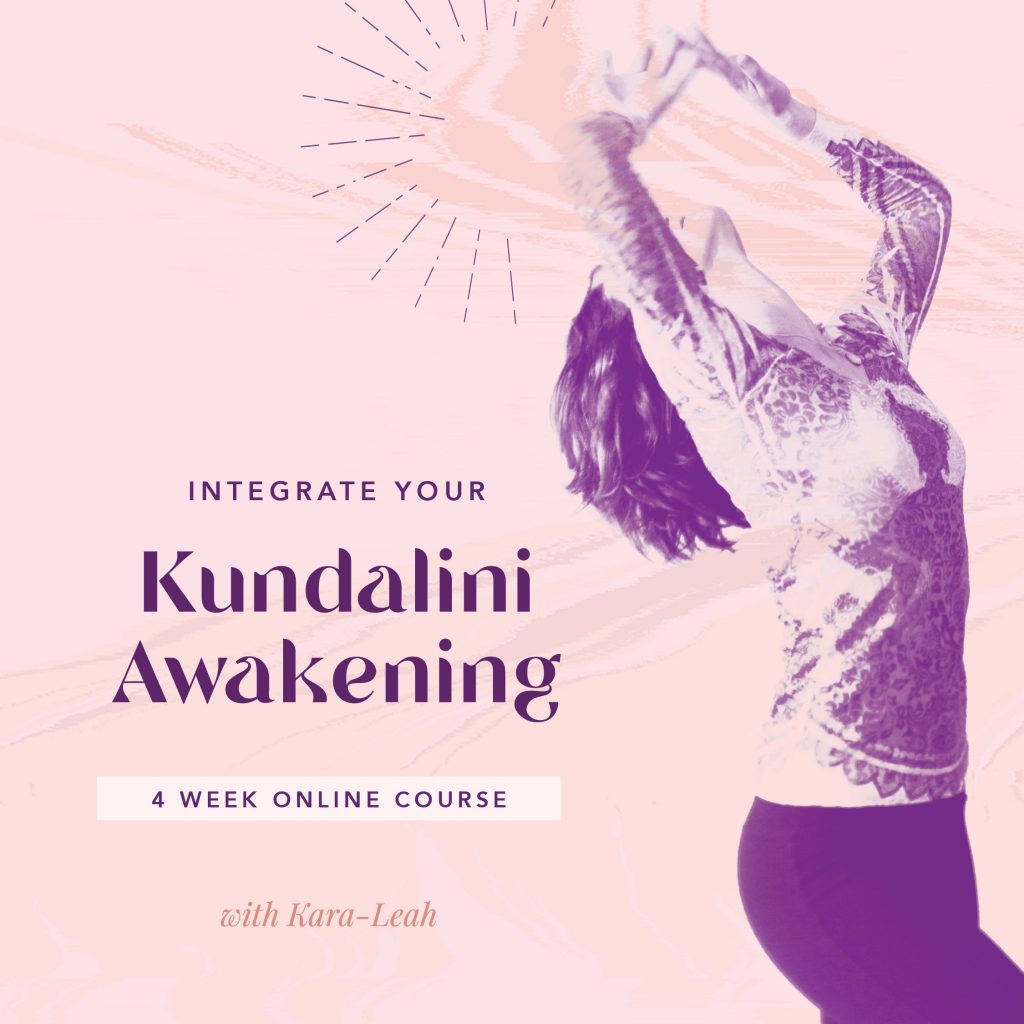 Start Anytime
Join Kara-Leah on a 4-week course & explore the roadmap and practices necessary to integrate YOUR Kundalinī Awakening. Discover how to avoid the traps, obstacles, and pitfalls along the way. Meet the challenges of Kundalinī Awakening with ease and make the most of the energy and wisdom now available to you.
Online | $108 NZ
Love KL's Writing?
Subscribe to On the Path, her juicy weekly missive