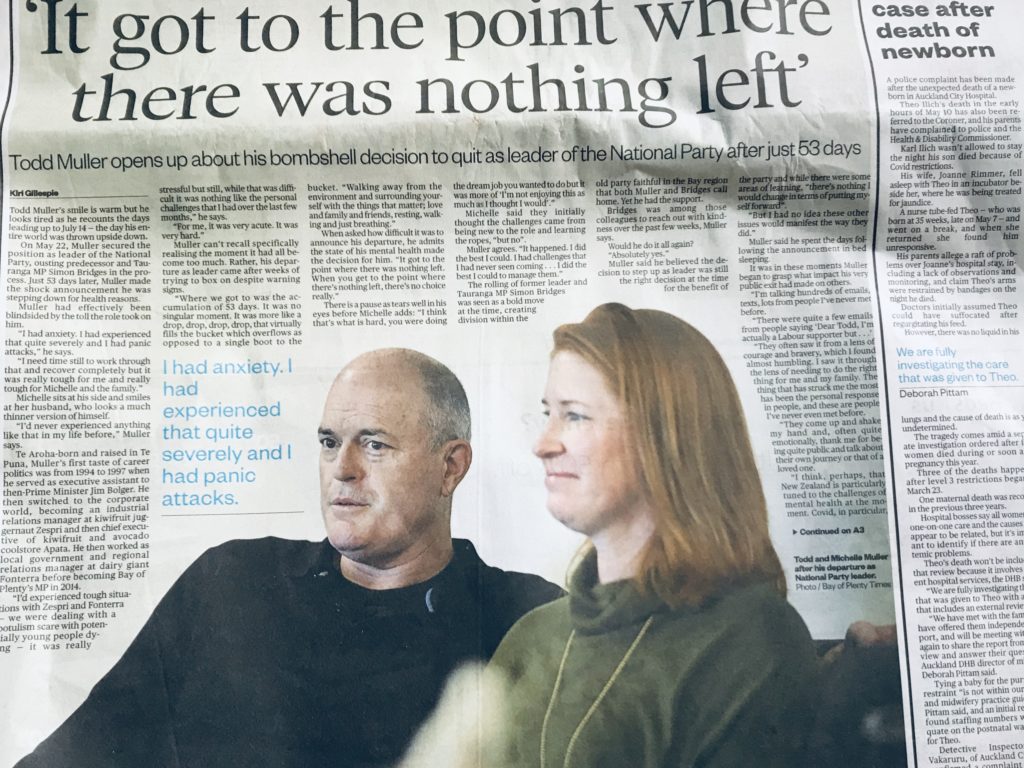 The front page article of the Herald on Saturday was a sympathetic interview with Todd Muller, he who was National leader for 53 days, and his wife Michelle.
'I had anxiety. I experienced that quite severely and I had panic attacks,' says Muller in the article.
This is a man who has been involved in politics, off and on, for a few decades, who is still standing as an MP in the Bay of Plenty electorate and who held high-level corporate jobs with Zespri and Fonterra.
And he's coming clean about the mental health challenges he experienced when he stepped up into the top job, after toppling Simon Bridges, also an MP in the Tauranga area.
On a political side, it feels like a strategic move to reassure and relate to voters who have the power to decide whether or not he remains an MP.
It would be his third term, if relected. And considering he won in 2014 with 61% of the vote. It's likely.
And ironically, it's more likely because of the way he's handled his fall from grace. He's been humble. He's appeared to be honest. He's put his health and family first. In many ways, he's done what so many people in high-flying jobs are likely afraid to do.
For that, he wins points.
But it's also a significant marker that a man of his stature is admitting to mental health problems. He could have lied when he resigned as party leader. There's many other ways he could have handled this. But times are changing – thanks to the hard work that's been done of the last twenty years by so many in the mental health sector. Muller references John Kirwan and Mike King in the article, and says he's been talking to Kirwan.
Why is this important? Because it shows that people – including the main stream media – are becoming more sympathetic to those who experience mental health challenges. Which, realistically, is likely most of us. Who hasn't experienced anxiety, depression, OCD, bi polar disorder, suicidal thoughts or psychotic breaks? And if you've never directly experienced on of those things, you will definitely have family members who have.
We're breaking, mentally, more and more and more often. And what was once seen as a weakness of individual character is now seen as a symptom of modern life. Which is only a stone's throw away from an admittance that maybe, just maybe, society itself is broken, and it's brokenness shows up in us, the people that make it up.
It reveals that the conditions we find ourselves in, combined with historical trauma and beliefs that don't serve, can lead even the most 'successful' people, or the most 'together' of people to break.
And that it doesn't mean we're flawed as people – it just mean the conditions need addressing, the trauma needs healing, and the beliefs need examining and dissolving.
This helps reduce the shame, the guilt and the fear that can cause people to feel even worse on top of the mental anguish they're already feeling. That makes it easier to reach out for help, and it makes it easier to be pragmatic about what's needed.
Muller's needed to resign. That was the stark reality he faced. 'It got to the point where there was nothing left… there was no choice really.' And in his case, whatever unfolded, it was always going to be very public. Better to lean in, show up, and be honest.
Which is what he's done. And that will have taken courage, although Muller says at the time, he was just thinking about what was best for him and his family. But that is the courage – putting yourself and your loved ones first – not the job, not the prestige, not the political impact. That courage has touched the country. He's had hundreds of emails and texts from people he's never met. His example has given people something they can draw strength from.
And now, on the front page of the Herald, we've got a politician talking abut his panic attacks.
Sure, it's politically advantageous for him to do so – he's showing up and being seen for his electorate. I can't name any of the other candidates in the Bay of Plenty electorate. I can name him.
But the spinoff impact on mental health in New Zealand is likely to be beneficial for all of us. Muller is clear on his advice for people who may be experiencing mental health challenges. 'Share it', he says. It's a simple message, and one that may reach people who wouldn't have considered sharing it before.
Sharing it was pivotal in my own journey of recovery from psychosis. I began sharing publicly two years after spending two stints in an acute psych ward at Lion's Gate Hospital in Vancouver. I knew, intuitively that shame would prevent recovery, and I was damned if I was going to let that happen. I refused to let shame silence me, and instead started writing articles and making videos about my experiences of psychosis.
Often it made other people uncomfortable. It still does sometimes. At an event last year, I spoke about my journey, and I could feel the audience get squirmy when the emotion broke through my voice. We're still uncomfortable with other people's emotions because we're often uncomfortable with our own.
And that's why sharing it can be so challenging for people. If you're experiencing mental health challenges and you share it with someone who is uncomfortable with what you're saying, that can be devastating. When you're already vulnerable, you can end up feeling like you have to make the other person feel comfortable. Suddenly the person reaching out for support becomes the comforter.
This is why I shared my experiences with the distant public. They were only accessible through a screen, and I didn't have to feel their responses to my words. It took years before I was able to share the truth of my emotional experience in person, and I still struggle to do it with my family. It doesn't feel safe.
Which brings us back to trauma.
When children grow up denied emotional expression, and are not taught to navigate their own emotional landscapes, it feels unsafe to feel.
When it feels unsafe to feel, the system gets triggered into fight, flight or freeze every time there's strong emotion. When the system is constantly triggered into fight, flight or freeze, the psyche develops coping mechanisms to repress feelings. All of which leads to… anxiety, depression, OCD, bi-polar disorder, and psychosis later in life.
I bet that Muller was ecstatic to roll Simon Bridges and take on that top job. And I bet that possibly, just possibly, underneath it all, he was scared shitless that he was going to fail to lead National to an election win, given Jacinda Arden's popularity. And if that fear was running underneath it all, it would have compounded within the first few tumultuous weeks.
He was criticised for a lack of diversity in his shadow cabinet. Then Anne Tolley resigned, followed by Paula Bennett, before Hamish Walker confessed to leaking Covid-19 patient details to the media. Which Michelle Boag then admitted being the source of, before she resigned. That's just a small highlight of some of the situations thrown at Muller within weeks of the job.
If Muller was unconsciously shit scared of failing, those events would have triggered that fear like a motherfucker.
And fear is the root of anxiety, and panic attacks. We're not meant to feel fear 24/7.
It's a survival instinct, designed to turn on when the tiger attacks, and then turn off again once we've run to safety. But humans have evolved to feel psychological fear which can turn on… and never turn off again. Just as it can do in children who experience trauma on a regular basis. Like the trauma of believing there's something wrong with them because of who they are. That's insidious, and often leads to on-going anxiety.
Muller shares in the article of the tough situations that he'd experienced in the corporate world – for example, dealing with a botulism scare with potentially young people dying. He said that was tough, but he was able to cope with that. Of course – that wasn't personal. It wasn't about him. But leader of the National Party? Just months before an election? That's personal. It's all about him. And that's the difference. That's when the deep, unconscious fear of failure can be triggered. What if I'm not good enough? What if I let everybody down? What if I fail?
The truth is, he wasn't good enough. He did let people down. And he did fail. And that's ok. It's just being human. It's no big deal. The time wasn't right for Muller to be the leader he always dreamed of being. Maybe it will never be right. But that doesn't make him any less of a man. That doesn't mean he doesn't have gifts to contribute to society.
Who we are is not defined by the roles we play.
It's defined by our willingness to be honest and stand strong in what's true for us, even at the risk of public condemnation and personal loss. It's defined by our willingness to own our failures and to make amends. It's defined by the way we show up, no matter what the role is that we're showing up to.
You're experiencing anxiety? Panic attacks? Depression? OCD? Bi-polar disorder? Psychosis? That's ok. And so are you – you're ok. This is just part of being a human being in this modern world we live in. It might not be pleasant. It might not be desirable. It might not be what you dreamed about happening.
But it is happening. And what if you got to decide how you showed up to it?
What if you decided to own it? What if you decided to get pragmatic and get help? What if you decided to be honest and real?
Because there's no shame in being human. There's no shame in being honest. There's no shame in being real.
And there is no shame in experiencing mental illness. All the best people do.
Just look at Todd Muller.