by Kara-Leah Grant
Whether you've had a Kundalini Awakening, are curious about the process of awakening Kundalini, think you might have some of the symptoms of a Kundalini Awakening, or are looking for support for a Kundalini Awakening, you're in the right place.
Over the last decade, I have explored Kundalini Awakenings from many perspectives, including hearing from people who've had spontaneous awakenings and gone on to live healthy and productive lives. I've also integrated fully my experience of Awakening, and I now work with a number of students supporting them to integrate their awakenings, plus run this (very affordable) online Integrate Your Kundalinī Awakening course. You can catch a video of me at the bottom of this article speaking about what integration is like for me now, nearly 22 years later.
A spontaneous awakening can be a frightening thing, but Kundalini Awakening is the evolutionary destiny of us all.
What is a Kundalini Awakening?
A full Kundalini Awakening is a specific energetic experience that means all of the knots and issues of the psyche have been resolved. It's extraordinarily rare and leads to enlightenment. Most people – like 99.999999% – who experience some type of energetic experience are not experiencing a full awakening, but the beginnings of the movement of Kundalini in the body.
This is nothing special, and the bells, lights, and whistles that can accompany any awakening can become a distraction and obstacle on the path.
People can have an energy shift that awakens levels of perceptions that activate the chakras for a while. They can move into some strange modes of behavior. The real full-on Kundalini Awakening experience is a surge of energy coming from Muladhara up the back of the spine, over the top of the head, and culminating in the forehead. The whole system has awakened.
Regardless, Kundalini Awakening – whether a full experience or the beginnings of movement – is the awakening of Kundalini energy, which resides at the base of the spine. The energy begins to move up the spine in some way, shape, or form.
This awakening of energy has nothing to do with a person's culture, religion, or country of origin. While the experience is generally described in yogic texts, it's also known and referred to in other spiritual traditions. It is the natural evolution of the human being, awakening to consciousness as the truth of who one is.
What causes a Kundalini Awakening?
Traditionally, strong yoga practice was used to awaken Kundalini. However, now it's becoming more and more common for people to have awakenings without any kind of yoga practice or history.
An awakening can be triggered by intense energy work, drug use, sexual experiences, abuse or trauma, yoga practice, or life events.
It's the first step on the many stages of awakening – not the end! Now is when the real work of awakening, and liberation begins.
What are the symptoms of a Kundalini Awakening?
The signs and symptoms of Kundalini Awakening are different for everybody, and it depends largely on the energy blocks in the person's physical, emotional, mental, and spiritual bodies. The signs and symptoms generally relate to the blocks, and as these blocks are worked through and released, the symptoms dissipate.
Signs & Symptoms can include:
Energetic sensations like electricity in the body or internal lightening bolts
Shaking and jerking in the body, usually totally out of the control of the person
A sensation of insects or snakes crawling on the body, often along the spine
Feelings of cold in the body, and conversely, feelings of intense heat in the spine or in specific chakras
Spontaneously arising kriyas (yoga practices), mudras (hand gestures), Bandas (body locks), asana or pranayama. Usually, the person has never studied or learned any of these spontaneously arising practices.
Waves of intense pleasure or bliss, even leading to orgasm
Big emotional shifts or mood swings, well beyond the normal
Sensory overload – sounds, lights, noise – everything becomes too much
Strange internal sounds that no one else can hear like buzzing, musical instruments, or thunder
Waves of apparent wisdom or insight into the way reality actually is
Heightening periods of creativity
What is the process of a Kundalini Awakening?
While an awakening can seem like a crazy and out-of-control experience, Kundalini is an intelligent and organic process that has a purpose and works with that purpose systematically.
The purpose is to work through all the illusions and knots in the psyche and re-orientate the awakening person's life into truth. This can be a painful process because it can mean the end of relationships, work situations, and old ways of being. Often people aren't ready to let go of the known and familiar, and so attempt to hold on to these people and situations. The attachment to the old is what causes suffering.
The more a person has done the hard work before Kundalini Awakens, the smoother the process. If the person has had a spontaneous awakening with little work on themselves, they're in for a hard road. Over time, Kundalini transforms people on a physical, emotional, mental, and spiritual level.
The most important aspect in skilfully working with a Kundalini Awakening is the perspective a person takes of Reality. This is where it's so crucial to have a good teacher who can transmit the View of the tradition. Most people's issues with Kundalini stems from holding wrong Views, and with an adjustment of View, plus the right practice, the awakening can be skilfully integrated. The four-week online course, Integrate Your Kundalinī Awakening addresses all of this and more.
What are the benefits of a Kundalini Awakening?
When Kundalini awakens, a person may experience deeper empathy with others, and this empathy can almost become telepathic. There is greater sensitivity, higher energy levels, sometimes psychic abilities or deep knowing, aging can appear to slow down, creativity and charisma can increase, as can internal peace and knowing. There is a sense of being part of All that Is. The greater mysteries of life are no longer mysteries.
Where can I find help or support for my Kundalini Awakening?
There are many support groups on the internet, and books that have been written about Kundalini Awakening. However, the best support you can ever find is a knowledgeable, trained, and experienced yoga teacher who has been through some kind of awakening themselves. They are rare, but not as rare as you might think. Ask around, use Google, and see who you can find. Be discerning though and make sure you trust your own feelings and intuition.
Never give your power away to someone you think knows more than you!
And yes, I do work 1:1 with people who have experienced Kundalini Awakenings, who'd like to integrate their experiences. If this is you, you can book a session with me here. Or you can check out the four-week course down below, which is only $37US.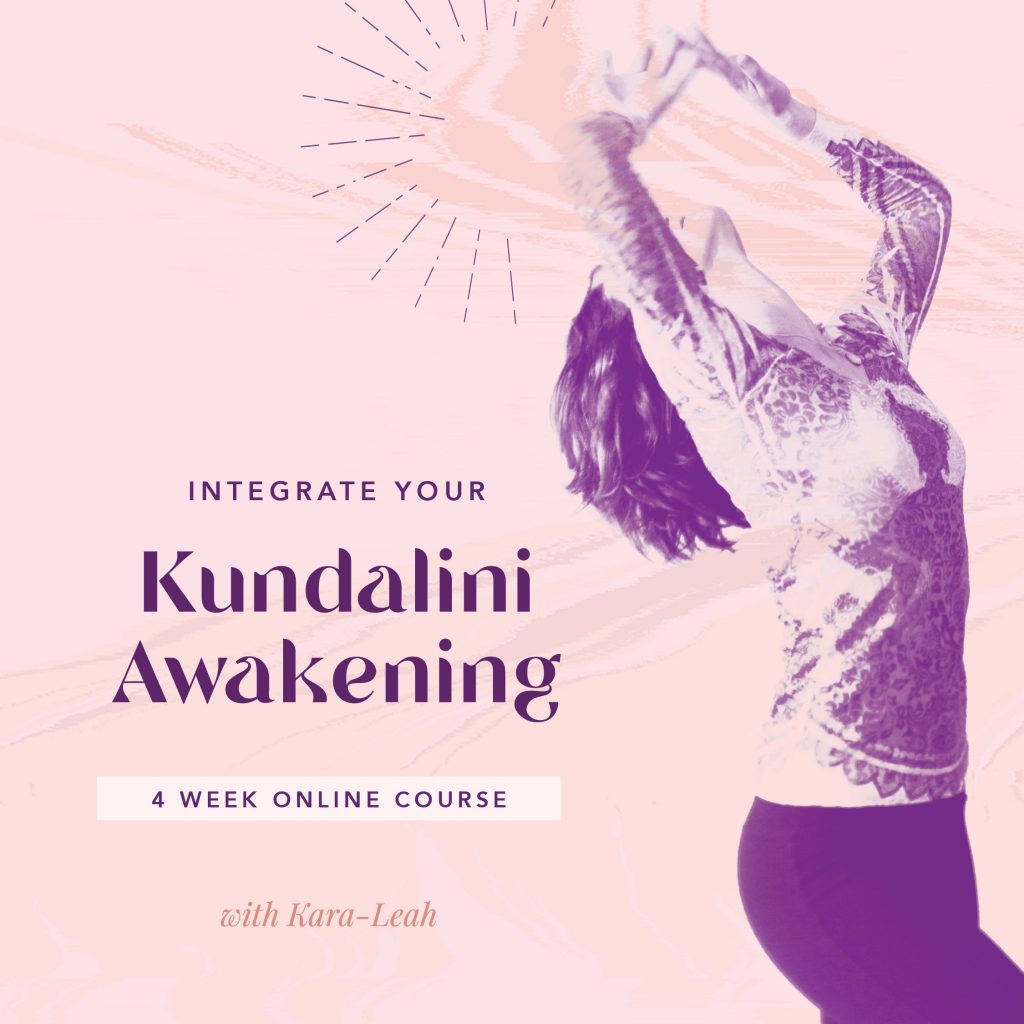 Start Anytime
Join Kara-Leah on a 4-week course & explore the roadmap and practices necessary to integrate YOUR Kundalinī Awakening. Discover how to avoid the traps, obstacles, and pitfalls along the way. Meet the challenges of Kundalinī Awakening with ease and make the most of the energy and wisdom now available to you.
Online | $108 NZ
Love KL's Writing?
Subscribe to On the Path, her juicy weekly missive