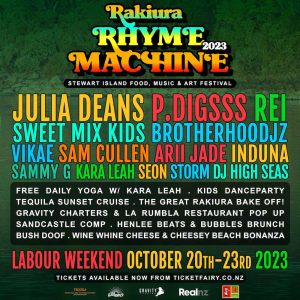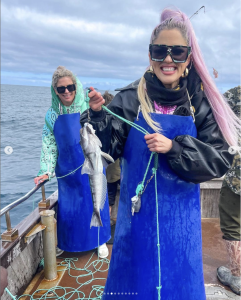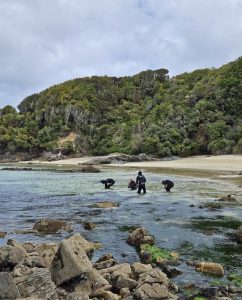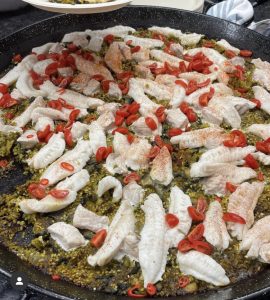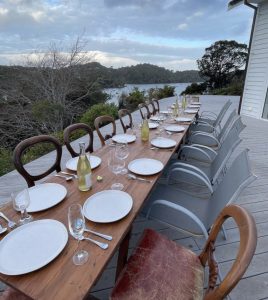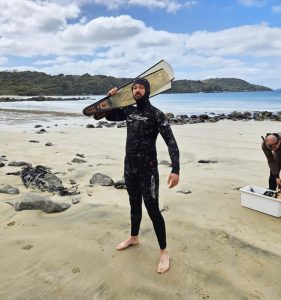 Images from top left: Rakiura Rhyme Machine Festival Poster • Arii Jade on Gravity Fishing Boat • Diving with Gravity Fishing • Paella with La Rumbla Restaurant Pop-Up • Dinner at the House • Rei diving with Gravity.
The call came late, ten days before the event kick off. 'Wanna come down and teach yoga on Stewart Island, for the Rakiura Rhyme Machine Festival?'
Um – YES!
Last year was the first time I'd been to Stewart Island – which, as an NZer in her 40s, now seems like a major oversight.
It had always felt so far away, and I had this image of dark rocks and cold oceans, low light and screeching seabirds. I only got there in 2022 because I'd bought a ticket to Sweet Mix Kids' album release party for Stargazing – at a mystery location.
That location turned out to be Stewart Island, and the album release party turned out to include a gig put on for the locals at the Community Centre.
One year on and Sweet Mix Kids had decided to do it all again, but to expand it out to a four-day festival including food events, a sandcastle competition, a kids dance party and free yoga classes every morning for the locals.
I was flown in, along with about twenty other artists and crew, and housed at an AirBnB about 15 minutes out of town. It was an opportunity to meet and rub shoulders with some of NZ's best talent – both up & comers like Vikae, BrotherhoodDJz and Induna plus well-established legends like Julia Deans, P. Digsss and of course, Sweet Mix Kids.
I've long held a fondness for artists and performers – I feel at home around creatives, and like I can be my magnificent, shiny, loud self – particularly on the dance floor. I love hanging out in the lounge and listening to musicians like Sam Cullen strumming on the guitar, or watching Blake pull out her dog-eared songwriting book and scribble down lyrics to her next song.
There's something magical too about meeting the person first, and then watching them transform into the performer on stage. And the intimacy of this festival meant that the artists were accessible and involved with every gig and event.
Stewart Island's population is only 400 or so people, and there were at least 100 or more people at some of the gigs. The Sandcastle Competition was HOPPING, and one of my favourite moments. There were at least 10 teams entered, and every team had to include kids. Rei was MCing, keeping up a lively patter to a background of funky beats as the sandcastle teams build caterpillars, mermaids, ships, Shark Island, turtles and even a working moat.
BrotherhoodDJz were the Celebrity Judges, and were blown away with how much effort all the teams put into their sandcastles – effort that inspired them to take the judging just as seriously. They were in hot demand after the winner had been announced (the Mermaid) for photos.
In years to come, when they make it big, those photos might turn into the family story… of that time we meet BrotherhoodDJz at the Rakiura Rhyme Machine Festival
It was that connection and flow between the locals, the artists and the crews that made this Festival something special. There was just so much heart in it all. And that stems from the original intention of Sweet Mix Kids (Chris and Sandon). They'd come to the island to write their album Stargazing, and feel in love with the land and the people.
When it was time to do the album launch, they had to do it on the island, and they wanted to give back to the land. That energy has continued, which is why when they designed a four-day festival, they made sure to include family activities like the Great Rakiura Bake-Off, the Kids Dance Off (with world-class DJ Arii Jade none-the-less!) and the Sandcastle Competition.
Chris and Sandon ran the entire Festival on a skeleton crew, and usually only had about four hours of sleep – as we all did. It was a case of dancing all night, packing up and cleaning up the hall, and then yoga'ing all morning, before rocking into the afternoon activities like Sandon's Swim and the Wine Whine and Cheesey Cheese, and grabbing a nap whenever possible.
The Bush Doof on the last night of the Rakiura Rhyme Machine Festival was hosted by locals Sam and Charlotte, who own the Four Square.
The pathway was lit with shells that just happened to glow in the dark, roped off on one side for safety, and hung with fairy lights. The main area was just on the other side of a wooden bridge, nestled into the trees, with the DJ booth – just a desk really – on the edge of a small clearing.
It was such a beautiful opportunity to drop in with the locals and dance the night away, whilst connecting with the land and the forest. It's definitely one of my favourite outdoor parties so far!
It was that kind of contribution – where someone was like, hey, come party on my land! – that took the Festival to the next level. It was such a relief to be out of the Community Centre because – beautiful and well-appointed as it is – nothing beats dancing on the land under the stars held by trees and wrapped by the river.
At one point, I was sitting on the edge, watching the crowd, and there was total cohesion and harmony between all the dancers. We'd become one amorphous field, vibing together.
Sandon later said to me – 'what's going on? It's so…' and he trailed off, lost for words. But I knew what he meant. After four days of hanging together, eating together, dancing together, yoga'ing together… it felt to me like the heart field had been totally activated and there was a cleanness to the energy field.
I wasn't surprised – I'd felt it on the Saturday night when there had been a killer line-up of dance music starting with Vikae, Sam Cullen, Rei, Sweet Mix Kids and then BrotherhoodDJz.
That night my heart had been so open, I was having constant waves of bliss flooding my system and I couldn't stop dancing or grinning. The hall was packed, but I still don't think the locals really grasped the level of talent in the room and the gift of having those performers in such a small venue.
And that's how I'd categorise Rakiura Rhyme Machine Festival – an intimate event packed with heart and dope beats.
My heart was definitely blasted wide open by it all – I was in my element. Nature, artists, food, dancing, music and connection.
And I haven't even mentioned the boat trips, the diving, or the crayfish yet! Every day there was an opportunity to go out on a boat for a sunset cruise, or to go fishing. That's something I've never seen at another Festival, and one of the benefits of having an island as the venue.
There were the locals who dropped something like 20 crays off on the front doorstep on the first day, the whitebait that showed up and was made into patties, and Stewart the local cop, who offered to drive artists home on the late-night shifts.
If you haven't yet been to Stewart Island, mark your calendar now for Labour Weekend 2024. This is the kind of Festival where you can come to be on the land, meet the locals, explore the island, and dip into and out of all the many events and gigs available according to your energy levels and desires.
And, knowing the Sweet Mix Kids, they'll have another extraordinary line-up of talent next year with some old favourites and new, fresh faces. Where else can you find yourself at dinner, building a sandcastle or on a boat, with the festival headlining acts?
See you there!