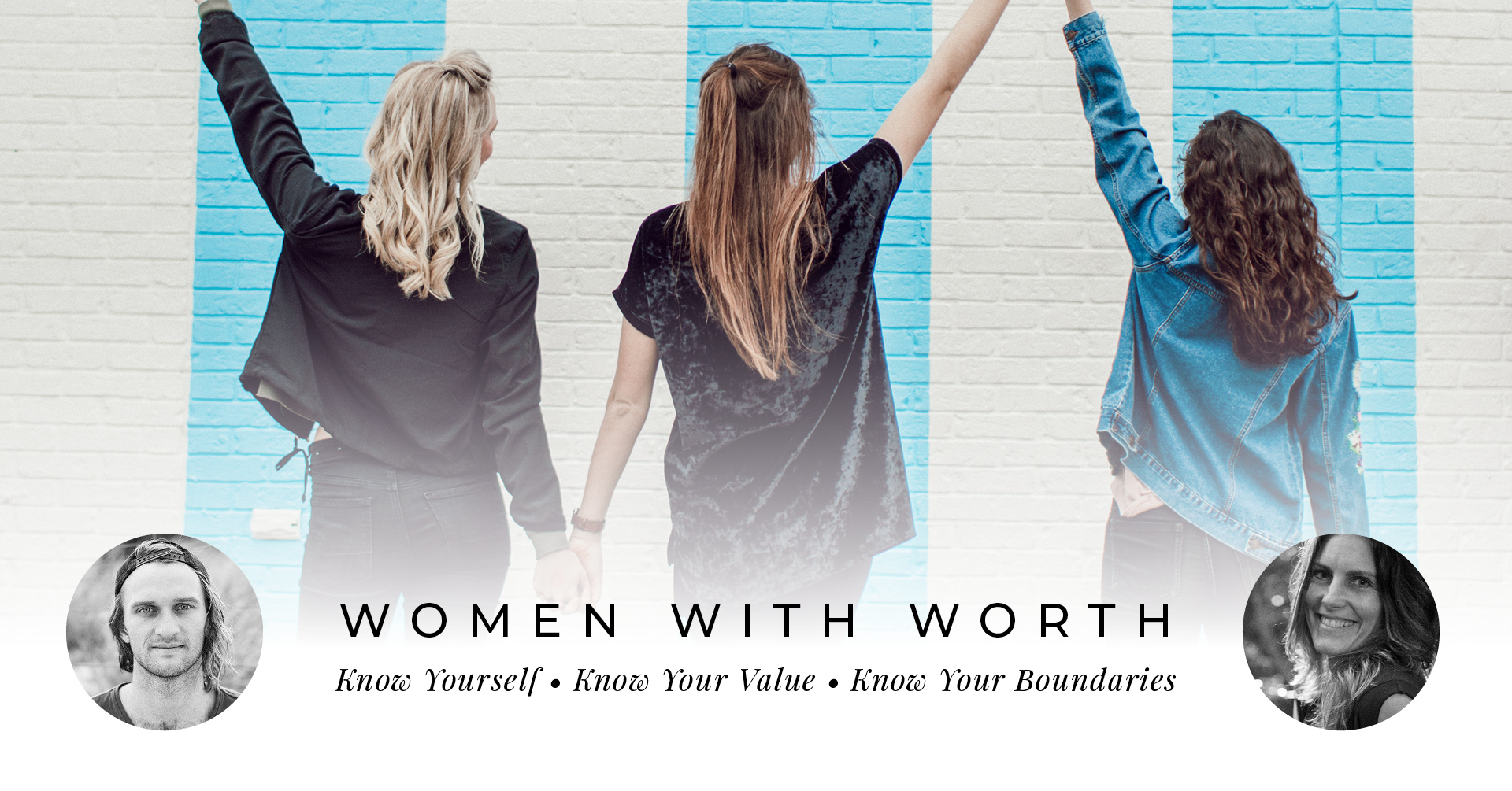 Are You Ready to Embody Your Full Worth as a Woman?
Join us for our NEXT 21 Day Program • February 14 - March 6 • Relationships, Love & Boundaries
Join a community…
…of 24 other women, and one outstanding man, on an epic three week journey into the heart of deep worthiness and deserving.
On our next 21 day journey we will focus on ONE major area:
Relationships, Love & Boundaries
By the end of the three weeks you will understand the hidden dynamics in relationships more intimately, know your value, know how to create healthy boundaries and feel deserving of your heart's desires in love.
What Women Say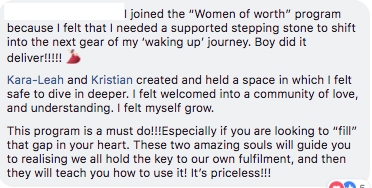 Your 21 Day Program Includes:
Weekly Exercises & Heart Work designed to shift your experience of reality for good
A weekly Jam Session on Zoom to Deep Dive into What's Coming Up
Weekly Live Videos in the Private FB Group
Training in how to Support yourself in releasing the energetic and emotional roots of wounds, issues, triggers, limiting beliefs and unconscious fears.
Jam Sessions
Sunday February 17th • 11am Melbourne time
Monday February 25th • 6pm Melbourne time
Monday March 4th • 6pm Melbourne time
Unlimited access to Program Material
The program finishes on March 6, but you will continue to have access to the private FB Group, with all the material, indefinitely.
No more people pleasing!
No more saying yes when you mean no!
No more giving your power away to other people!
No more fearing other people's disapproval!
Buy Now • Limited to 24 Women
Next intake will be February 14 – March 6
Our last program SOLD OUT, and we know this one will too.
Full Price $AUS 249
Six Spots Gone
18 Remaining
Once you sign up by paying…
we'll send you a Welcome Email within the week
It has all the details on how to join the private Facebook Group and what to expect on the program.
If you haven't received it by March 4th, please let us know. 
What People Say about Women With Worth
"I'm still buzzing at how much surfaced in such a subtle and gentle way during these 21 days. So many unknown/unseen aspects of myself bubbled up into clear vision. Each of them smashed apart and filtered out with the safe yet fierce guidance of both KL and Kristian.

If you are looking at growing your wings and stepping up in life then I could not recommend this 21 day course enough. Hugely positive growth moments have happened in my life since completing this course particularly around boundaries.
I know there is more unfolding to do as I integrate all I have taken in. The magical way that KL and Kristian work and weave together brought up so many light bulb moments up for me.
Listening and then re-listening to the FB lives helped me to sink right into the work I needed to do at the time that was right for me.

If you want to awaken your sleeping warrioress or fine tune your wings then jump on in. It's a magical ride. Thank you KL and Kristian xx" – Toni

More of What People Say about Women With Worth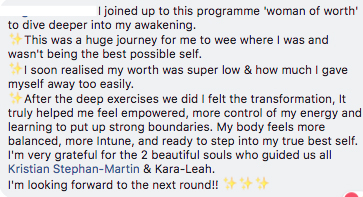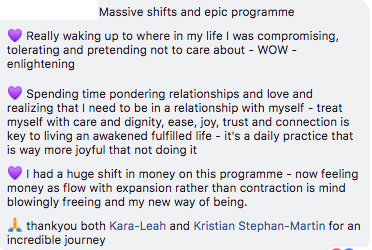 We look forward to taking this journey with you!
Kristian & Kara-Leah