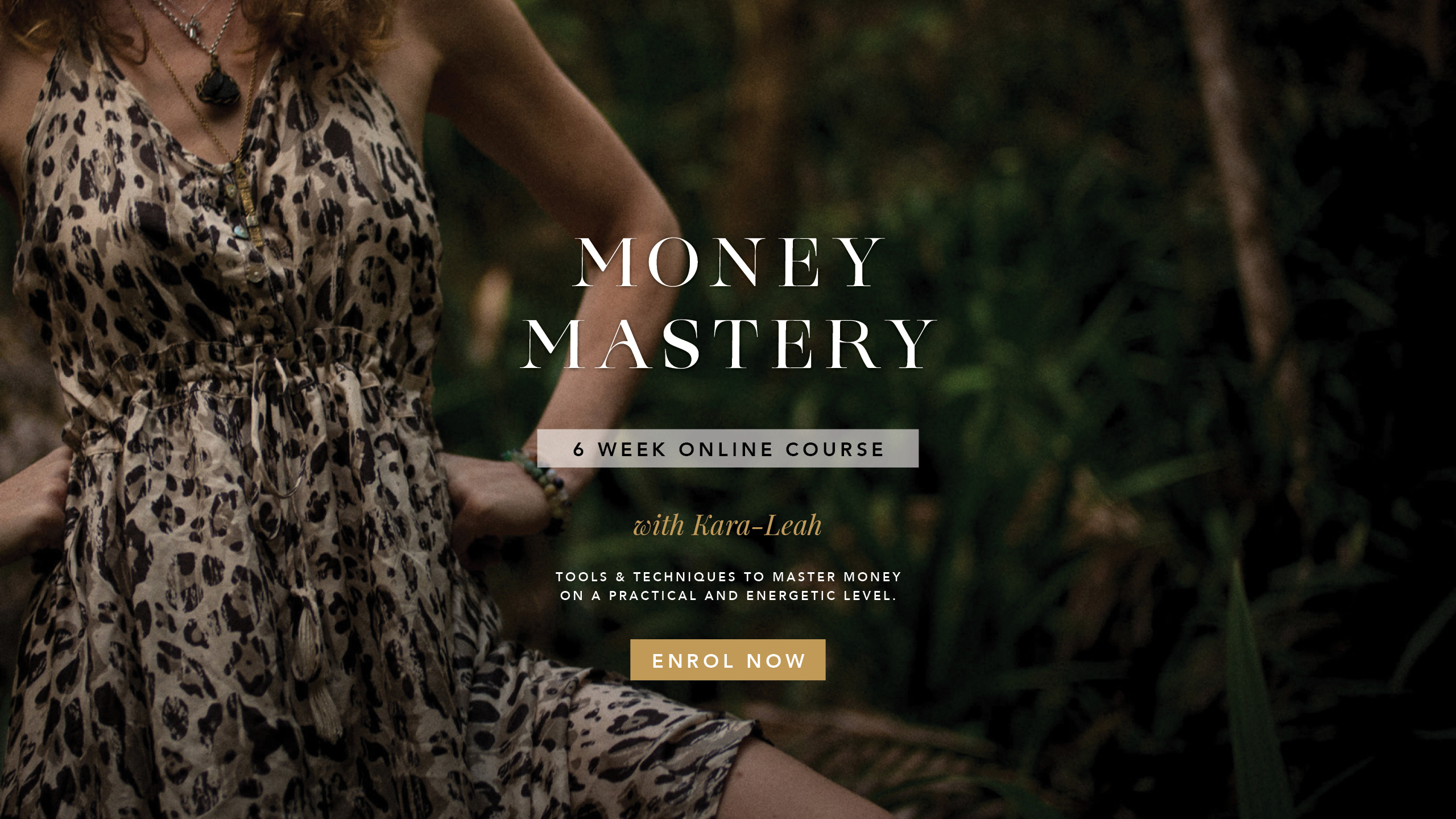 Money Mastery Online Immersion
Financial Literacy • Wealth Mindset • Creation Magic
Join Kara-Leah for an intimate, inspirational, and insightful six-week Money Mastery Immersion packed full of tools, maps, and processes designed to radically shift your financial reality.
It's next-level financial literacy delivered in an easy-to-implement manner, PLUS deep subconscious work on mindset and desire that anyone can do. And… there's the magic of creation. For real. It's a thing. More on that later. For now, a brief dance video break.
Wait – I can master Financial Literacy, Money Mindset and Creation Magic in six weeks?
Ok – you won't master them in these six weeks, but you'll have a strong foundation for the journey of mastery, which happens over time. Aspects that we may cover include:
How money and the world of finance operates
The critical importance of on-going financial education
How to set up your finances to minimise anxieties and fears
Easy money hacks that can generate more wealth
Ways to increase your income
How to uncover, uninstall and dissolve limiting money beliefs. (It's one thing to KNOW what limiting beliefs you carry, it's another to know how to uninstall those beliefs. We'll be uninstalling them!)
How to generate and embody desired money beliefs (Humans like beliefs as they make us feel safe, so we learn how to take advantage of that and work with beneficial beliefs.)
How to embody a wealth mindset
The importance of vibration and state change (did you watch the video?)
How emotional wounds and family conditioning impact your experience of money
How to work with the mind to minimise money anxiety, fear and worry.
How to unhook self-worth from finances (you are not your money, or your income!)
Creation magic. Yep. True.
What's Involved in Money Mastery: Financial Literacy • Wealth Mindset • Creation Magic
The body of work revolves around creating a strong intentional energetic container and supporting people to tap into and actualise their individual intentions. The methodologies offered include a variety of frameworks and maps – use whichever works best for you.
At the beginning of each week, Kara-Leah gives a video transmission which you can watch live or recorded.
Then there's a weekly Zoom call for Shares and Q & A.
These two weekly videos are supplemented with practices, exercises and resources delivered via The Tantrika's Toolbox – Kara-Leah's online platform.
There is also a WhatsApp community engagement group where you can connect and support other people on the Immersion. Kara-Leah responds to all messages in this chat, providing 1:1 guidance at times.
Who is this Money Mastery Immersion for?
If you're ready to take control of your financial situation, and are willing to look at the (sometimes) challenging and painful work required to improve your financial situation, this Immersion is for you.
If money makes you feel overwhelmed, frozen and shut down, and you're ready to take responsibility for shifting, this Immersion is for you.
If you've done all kinds of money mindset work but still haven't shifted your situation, this Immersion is for you.
If you're ready to get real smart about your money and feel like a boss, this Immersion is for you
If you're ready to take a giant financial leap forward, this Immersion is for you.
If you understand the power of intentional energetic containers and would love to step into Kara-Leah's field and take advantage of it's power… this Immersion is definitely for YOU.
Upcoming Dates TBC
$995NZD • Instalment Plans available
Check out that video! Changing state using dance, music, shaking, self-pleasure and other tools is powerful!
What People are Saying
'Money Mastery is a fun and engaging event. As a flamboyant Leo woman who has enjoyed some spectacular personal crashes, Kara-Leah presents her elucidation with a mixture of seriousness and lightheartedness. The seriousness is anchored partly in her personal history, but also in the inescapable fact that money is, at least for some of us, a serious matter. Her workshop mixes practical advice with portions of yogic wisdom, chief among them that we are governed by our limiting or supporting beliefs. As these beliefs are often unconscious, we tend to recreate the past like automatons following the dictates of our programming. In this workshop, Kara-Leah Grant maps out the territory that lies ahead and she points out "the next step" that can be taken on this journey.  It's clear that she's not only flamboyant, but also courageous – and courage can be a truly inspiring quality.

'I ended up clearing my MasterCard from debt. This was from a hard core examination of my spending which ended up saving me huge amounts in unnecessary spending. I'm actually used to being in debt, it's my normal. This debt being cleared was actually triggering and uncomfortable. Harsh. Next up I was challenged to examine my thoughts and beliefs around money. I have actually found this so powerful, it's been life changing.'

'I highly recommend Kara-Leah's Money Mastery course to everyone who is ready to have a conscious relationship to money. Before starting the course, I felt a lot of emotions around money including guilt, shame, and a tendency to avoid matters related to money. Kara-Leah's program provided the resources and practices to start looking at money directly and investigate the unconscious beliefs that were informing my actions. Money Mastery helped me to shift those limiting beliefs into powerful beliefs that support my desired reality! Kara-Leah is an outstanding guide. She brings truth, practical tools, and a perspective I value. After the course, I feel more confident and in control of my financial decisions and I have a greater understanding of my financial values. My emotions around money are now calm and I feel I have gained control of my thoughts to bring more financial abundance and generosity into my life.'
'The shift I have had in manifesting these past three weeks has been huge. I have gotten clear on what I want with my work and the form it must take… and my new default setting (the feeling of 'peaceful abundance') that you told me to reinforce each day for 40 days, 5 mins a day, has kicked in and shown up in the physical. This week has been the most profitable since I started this work more than a decade ago. I see now how you took me down, into the source and we re-programmed my subconscious. Thank you for your help and thank you for being the channel that you are. I SUPER appreciate your help in my development.'

'I did the Money Mastery Immersion at the end of last year and I want to express gratitude to you and all your work.
It's taken this long for it all to finally sink in. I'm slowly unpacking my conditioning surrounding money!
I did a slush fund after the class last year and didn't really use it until my van broke down and then I was so grateful to have some money aside. I've now started a deep savings account and am part of a local savings pool fund.'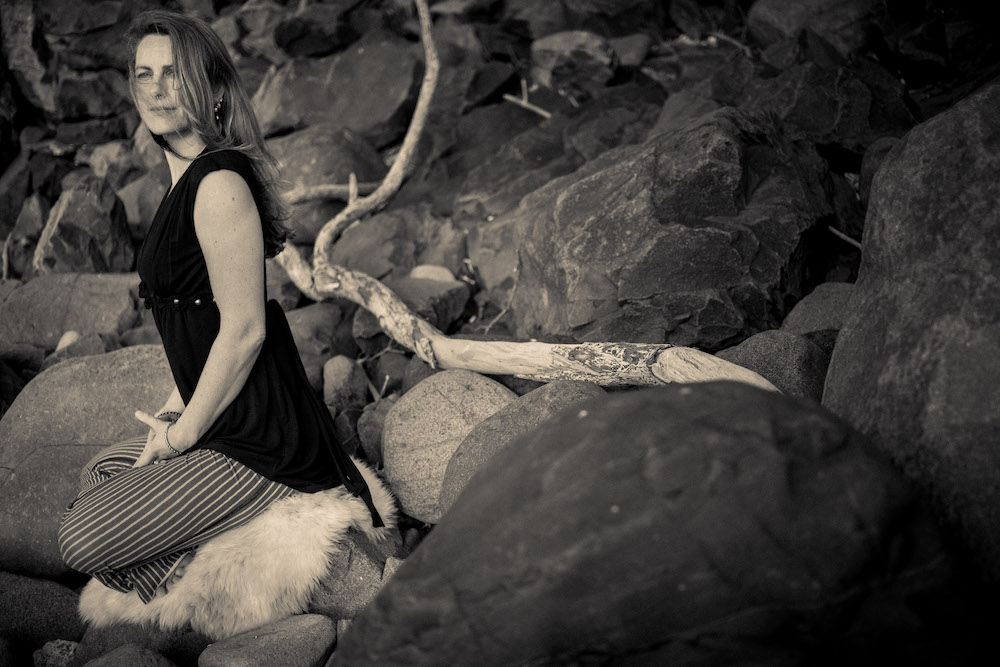 About Kara-Leah
Kara-Leah has been doing transformational work with students and clients since 2006. She's supported thousands of people through the transformational of their lives. Her work is rooted in Classical Tantra, which focuses on knowing yourself first to then create change in the world. She's been fascinated by money ever since she was a child and first mastered Monopoly. Over the years she's travelled the world on a shoestring budget, thrived on a the sole parent benefit, built a six-figure business from the ground up and is now focused on growing her investment portfolio whilst moving into 7-figure territory.