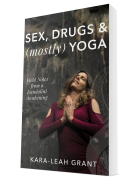 Media • Sex, Drugs & (mostly) Yoga
Dylan Steeples • Plant Power Podcast
We had an amazing conversation on my back porch one summer afternoon… talking all things Sex, Drugs, Yoga & Mental Health.
Dylan asked me some really amazing questions, which gave me an opportunity to reflect on what it felt like to be in the midst of psychosis, and how it must have appeared to other people.
Click here to listen on iTunes.
Stephanie Spence • Review
Media • Forty Days of Yoga
Elephant Journal Review • Sara Foley
The Practical Mystic Blog • Articles about using Forty Days of Yoga
Natural Living Blog • Review