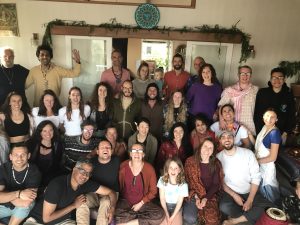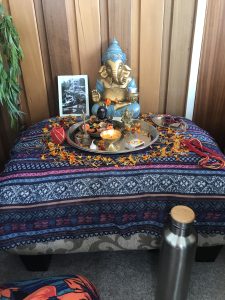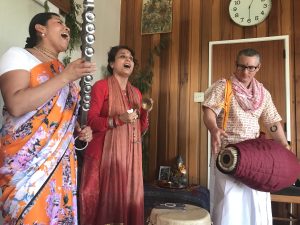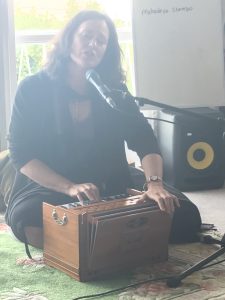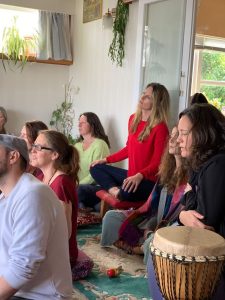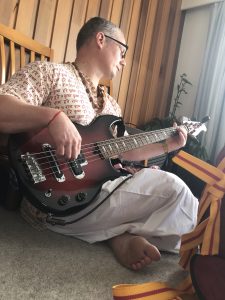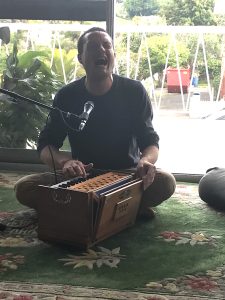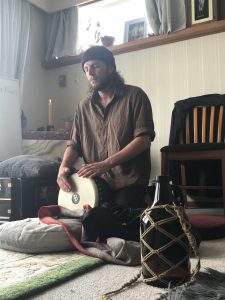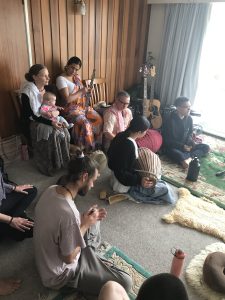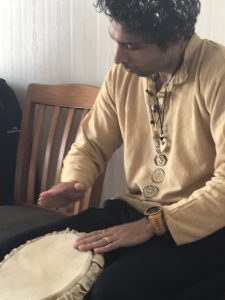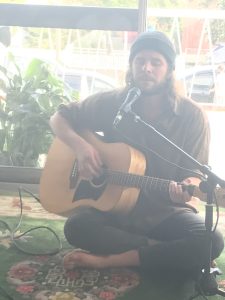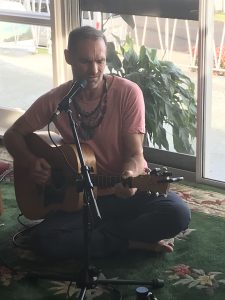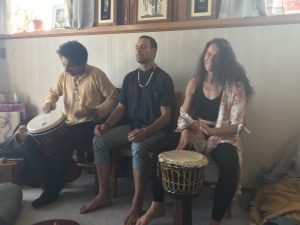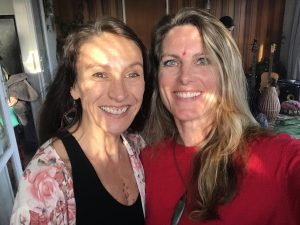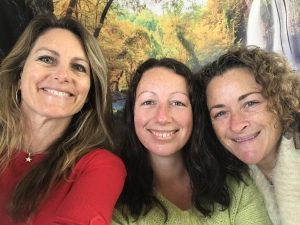 Oh yes… 8-Hour Kirtan + Potluck, what a gift! (Watch the IG Highlights here.)
There is a feeling that arises when one has a vision, follows the promptings, surrenders to the flow, and allows what wants to be born to come through.
That feeling permeates my body right now – a swirl of wonder, awe and gratitude that makes my head bow and my heart tender.
It is not a feeling of 'I did it', but a feeling of ' it happened', because it wasn't me that did anything. It was life itself, weaving through me as the vision holder, and all the other people who generously contributed their time, energy, hearts and souls to the vision.
Mostly, I feel like all I did was get out of the way and allow the Goddess to create through me.
Sounds fanciful, doesn't it?
But it's not.
Many months ago, during practice, or perhaps in the bath, I felt the pull to once again drop into sustained Kirtan practice, inspired by the 24-hour Kirtan I attended with the Hare Krishnas in 2022.
Out of that desire arose a vision of an 8-hour Kirtan + Potluck at my house.
I let the Vision percolate for some time – possibly for even 2 or 3 months. But it wouldn't leave me alone, and when I floated it past people, the unanimous response was YES PLEASE.
So finally, I made the commitment. In conjunction with Vinayak Lohan, we set the date, according to an auspicious day on the Hindi calendar.
The call went out for Kirtanists. And I invited people to register for the event, determined to run everything via dāna, the gift economy. An offer came in from Sarah Campus and LadyFem to run a somatic dance on Sunday morning, after the Kirtan. It couldn't have been more perfect.
This was about community and contribution, about giving and receiving, about humans coming together to sing, dance, eat, share space, and be with one another with open hearts.
As with anything I embark on, organising and running the 8-Hour Kirtan + Potluck became a practice.
Mostly, I was surrendered to whatever happened. But there were a few hooks – like when 10 people pulled out on the last day – almost a third of the list.
We'd hit capacity ten days prior, so I'd stopped promoting and gone to a waiting list only. Five people dropped out after the first email confirmation went out, which was no big deal because I just bumped the people on the waiting list.
But when the final email confirmation went out, another ten pulled out, and the remaining six on the waiting list got in, but I wondered…
How many people hadn't registered because they thought it was full?
Who was missing out because people had registered without being fully committed?
And on the day, there were definitely a significant number of no-shows as well.
I noticed on that final day, as the cancellations came in, that it pissed me off. I noticed that, watched that, felt that. What was that about?
I even knew which people would pull out – even though they'd registered weeks ago. I knew that they were just grasping for the shiny thing, without genuine connection or desire to show up and contribute.
The question is – what about that f*cked me off? What was I attached to?
Of course, there was inherent perfection, as there always is.
Thanks to the no-shows, there was more spaciousness, and room to flow.
Everyone who was there was fully committed, and contributed in a myriad of ways – whether it was bringing candles for the altar, setting up a shrine to Ganesh, bringing flowers for the table, wood for the fire, financial contributions for the kirtanists petrol costs, or an open heart to sing and share from.
I felt immense gratitude for Vinayak, his mother Varsha, and wife Pia. They are devotees of Shiva, and hail from an area close to Rishikesh. Varsha brought red thread for our wrists, and red paste for the third eye bindi, sharing the function and meaning of this part of the ritual before she chanted her daily prayers to Ganesh in front of the shrine to open the Kirtan.
From there, the 8-Hour Kirtan flowed with chant, after chant, after chant, each kirtanist bringing their particular expression of the Goddess to the stage. The rhythm flowed up and down, building to ecstatic peaks, dropping to heart-felt valleys, and always, always, always, the energy was sustained by the participants in the room as they clapped and sang and danced.
I sat for a couple of hours, deep in chant, and sometimes in stillness. There were all kinds of energetic blocks and movements through my front body – particularly in front of the heart and the throat.
I could feel the magic of Kirtan burning it up in the fire of the chant.
After a couple of hours, I went to check on my son, who was camped out in his room – 'There's too many people Mum'. He needed food, so I attended to his needs, before coming back into the Kirtan space where Sitapati Das was rousing everyone into an ecstatic peak, and the dancers spilled out into the dining room.
There was harmonious cohesion through the field, as all these humans opened up into the One and allowed themselves to be chanted, and be moved.
Eight hours flew past – I noticed that the stuck energy had cleared by about halfway through, and I never had that sense of 'boredom', or 'when will this be over'… there was just the chant, just the moment, just the unfolding.
Great joy came from seeing and feeling everyone else open and surrendered in the space. Kirtan – call and response chanting – is THE practice for these times. All that's required is to gather together and chant the names of the deities in service to the Goddess, she who permeates it all.
This practice of kirtan opens hearts, eats karma, clears our field, and unites us in the collective field.
It's open and accessible to anyone. There is nothing to believe, nothing even to learn. You don't have to understand the chants – in fact, it's better not to understand. Leave the thinking mind behind, leave the intellect behind, just drop into the heart and open, open, open.
That is what we did, and we did it in service to the Goddess, yes, and to humanity. I'd opened the space with a brief meditation and prayer, honouring this land, the tangata whenua, the ancestors, and all the gurus, masters, deities and ascended ones.
From there, I made my offering, which was that we would create and radiate a collective field of love that would flow out into Thames, into Aotearoa, and around the globe. I dedicated our practice to all those in areas of conflict and war – particularly the humans caught up in the Ukraine, and the Holy Lands currently known as Israel and Palestine.
As I chanted, I kept my attention on this area of the world in particular – I held those lands of Palestine/Israel in my heart, seeing and feeling the land and the peoples.
Does this have an impact? I do not know – and it doesn't matter.
It costs me nothing to dedicate my practice to others and to maintain attention on them with an open heart.
Later, one of the participants shared with me that he too had done the same thing throughout the Kirtan – held Israel/Palestine in his heart and radiated the energy of the Kirtan in that direction.
Opening one's heart is a strong practice because it requires that we are willing to feel the pain of humanity. And it is the greatest gift we can offer. Kirtan is the practice that supports this.
That's why the vision, that's why the event, that's why the unfolding.
My desire now is that our 8-Hour Kirtan + Potluck inspires other communities around the globe to offer the same thing, and to dedicate their Kirtan and their practice in service to the Goddess, and in service to humanity.
It doesn't take much – just a vision, some enthusiastic kirtanists, and a bunch of people willing to show up and give of their hearts and voices.
If we can do it, you can do it.
How many 8-Hour Kirtans would it take to open the hearts of humanity?
That's what I'm curious about.
There are ripples now, radiating out around Aotearoa, as all those who participated return to their homes, or journey into the next part of their adventure.
And there are seeds that have been planted that may not fruit for days, weeks, months or years.
My heart is full. It is tender. And there is so much gratitude and love spilling in all directions.
May all beings know love.
May all beings know peace.
May all beings be free.
We are the Ones.
We are the One.