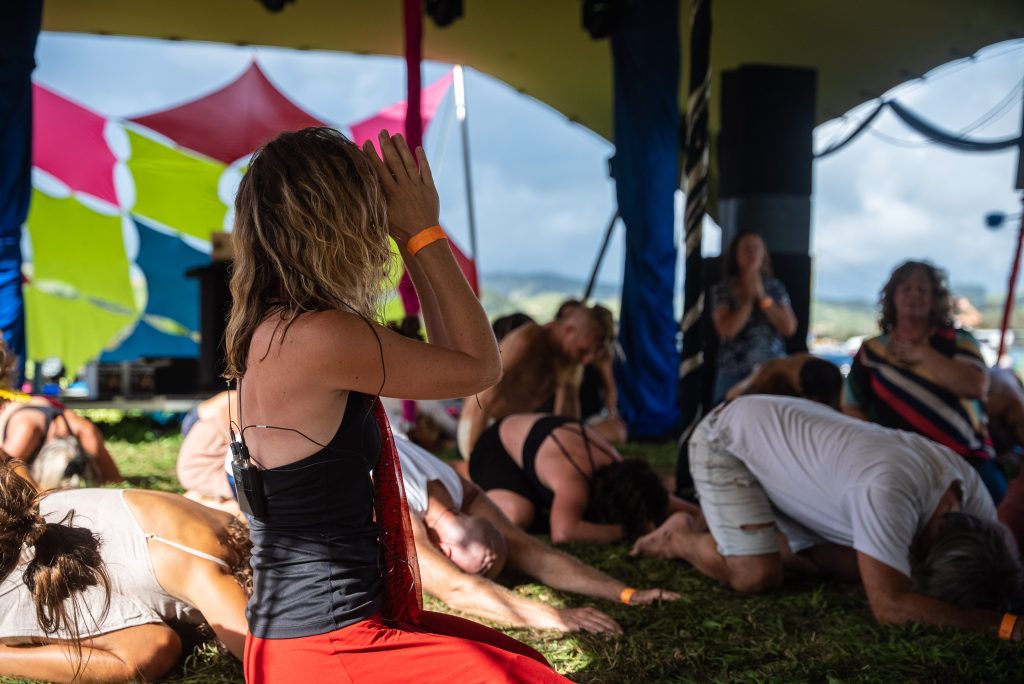 Today there were tears and a heart-opening surrender, but they didn't come on the mat during morning salutations like yesterday.
Today on the mat, I felt strong, clear and powerful.
These tears came after my daily morning sun salutation practice, as I sat and wrote my morning pages, reflecting on the last 24 hours.
After ten months of uncertainty and deep unknown, after the collapse of my business as I know it (revenue is down about 80%) and various other financially challenging circumstances that have tested my spiritual work intensely…
There was a breakthrough.
And it hit me, as I wrote these morning pages, that I had finally 'made it' – the words that started playing through my mind were 'I'm going home', 'I'm going home'.
As those words played, I burst into tears. I surrendered to what is happening and realised it was my deepest heart's longing.
I'm finally going home.
I can't give concrete detail, because this is so new and fresh. Stay tuned though because it will be revealed in a month or two.
As I reflected and tracked back, I realised that yesterday's tears on the mat had signalled a new level of surrender for me.
As I practised, I felt like a failure – like I was failing my son because I was unable to provide for him, like I was failing my business, because it was crashing, like I was failing my role, as a teacher within this community.
I didn't believe these feelings though, I just surrendered to them, let them come, felt the f*ck out of them, and flowed on with the sun salutations.
Later, out on my daily walk, I was musing on our current situation and the need for drastic change because I'm about to run out of savings and outgoings are considerably higher than incomings…
I realised that I need to get my son on board – he's been resistant to change (change of house, change of town etc) and at 14, I can't take action without his backing.
I asked myself the question 'What would he be really excited to do?' And I sat in that question. (Inquiry is one of the most powerful practices, and I use it constantly. Learn to sit in the question!)
When I got home from the walk, my son said to me, 'Hey Mum, why don't we do XXXX.'
I stared at him.
Really?
He was excited, and proposing an action that would completely shift our circumstances in a super positive way.
Not only that, but it was an action that really excited me – something I have been wanting to do for years but always thought was out of reach.
Now it was coming from my son.
Not only was he on board, but he was the one suggesting it, and he was excited.
Even better – I had my project for ✨ACTIVATE✨ the seven-week, small-group mentoring programme that I'm running in October.
I had been musing, wondering – and to be honest – doubting my own ability to bring a project through the framework of ✨ACTIVATE✨ because I feel like I've had so many false starts and failures in the last year.
That was concerning me as I leaned into marketing because a hallmark of the way I teach and facilitate is that I embody whatever process I am sharing. I allow the process to do me in the lead-up to the offering, whether it's a retreat, an immersion, a practice intensive or an online programme like this.
Yet here it was – the ultimate project to bring through ✨ACTIVATE✨.
And, it had unfolded in alignment with the process of the Week 1, which is Surrender and Union.
In order to co-create in alignment with our highest potential, we need to have the courage to fully surrender to the truth of our circumstances and our desires – no matter what aversion or attachment might be lingering.
That was me on the mat yesterday, surrendering, and sobbing my heart out. Giving myself to life and the lord you could say.
The second part of that first week is Union – and when I had recognised that I'm co-creating not just with life, but also with my son, and had worked with an inquiry:
'What would make Sam excited?'
I had invoked the power of union.
Can I prove that my inquiry while walking somehow provoked Sam's response when I got home?
'Hey Mum, why don't we do XXXX.'
No, I can't.
But from this vantage point, it sure as hell feels like it did. He answered my inquiry within ten minutes of me walking in the door, and we were suddenly jumping sideways on timelines in a direction I never suspected.
Not only that, but then surrendering to this direction – which could easily be seen as totally preposterous – provoked a further surrender and opening of my heart this morning which led to the knowingness of 'I'm going home.'
There is such relief in my system right now.
Everything suddenly makes sense.
With direction determined, action naturally falls into place.
This is the framework of ✨ACTIVATE✨, where participants learn how to co-create with life using practical, applied magic, starting with surrender and union.
The second week flows into Vision and Intention.
And that's the next step for me – and Sam – now. To attune to our Vision and Intention for this new direction. (You can see all the layers of the framework of ✨ACTIVATE✨ here – just scroll down to the curriculum).
But before I leap to Vision and Intention, I'm going to keep surrendering, softening, and opening.
After all these months of uncertainty, this is a precious time, and I want to revel in it.
Time for a bath with some mantra, my altar, and one of DZCandles beautiful tapers.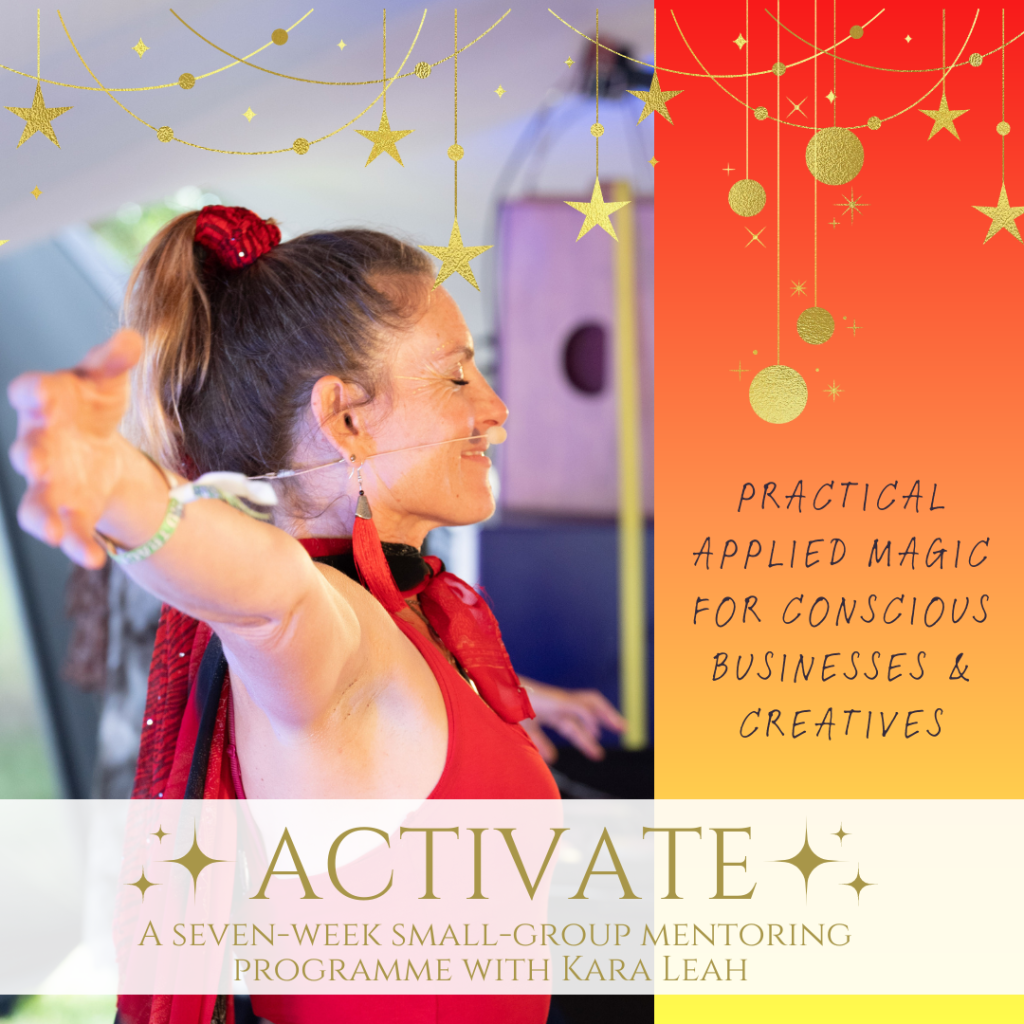 ✨ACTIVATE✨ • Small-Group Mentoring Programme
Mentoring + Practices + Frameworks & Teachings
Join Kara-Leah in this seven-week journey designed to support you in bringing YOUR project to fruition using the practical, applied tools of magic.
What? Magic?
Yes – magic, as in the ability to influence material reality (create) using desire, intention and inspired action. It's a very practical, skills-based course that WORKS!
if you want to take your business, or creative pursuits into the esoteric realm, this is the course for you.