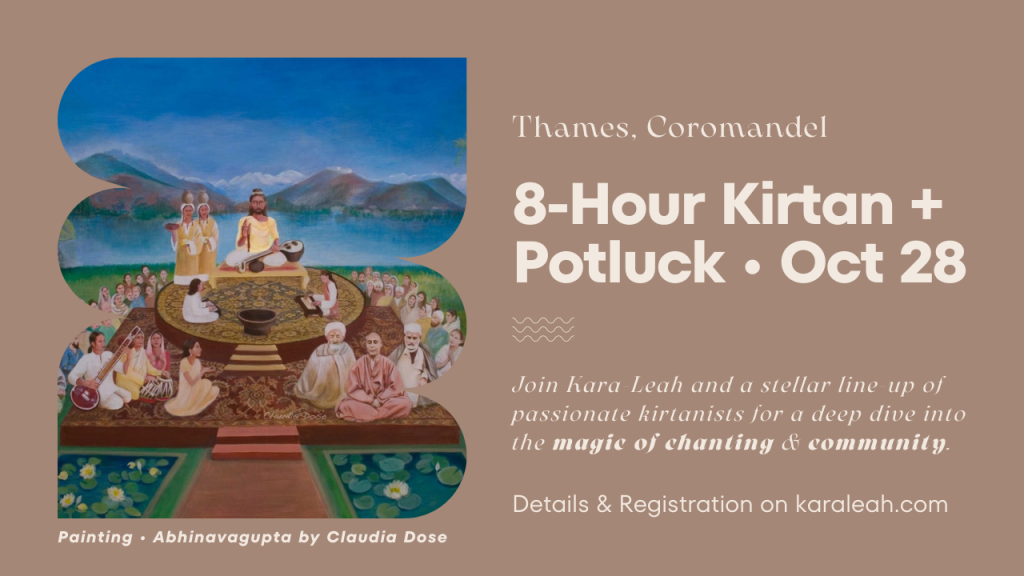 Kirtan is one of my favourite practices – it's easy, potent, and feels like doing the cleanest MDMA ever. It's full heart-opening, so 8-hour kirtan? Let's go.
Last year, thanks to the Hare Krishna crew, I had the great pleasure of participating in a 24-hour Kirtan. We kicked off at midday Saturday and finished at midday Sunday. People came and went from the chanting space and every hour, there would be a change in leaders.
I chanted solid from midday until about 11 pm, went and caught eight hours of sleep, and then resumed chanting for the final four hours, from 8 am until 12 pm.
During the chant, the mind pulled all it's usual tricks:
This is boring.
I hate this.
Why am I even doing this?
Omigod I'm so over this Krishna dude!
I was aware of the thoughts, but I didn't believe them, and I continually surrendered to the chant, moment by moment, minute by minute, hour by hour.
And oh the reward!
On the drive back home – a solid six hours (which is why I choose to sleep instead of going hardcore and doing the entire 24 hours) I felt like I was driving in a wonderland.
The colours were brighter.
The trees were more alive.
The birds were extraordinary.
And I felt like I was made up of rainbow waves of love.
This lasted for weeks, and weeks, and weeks. (See this article for an in-depth review of the benefits.)
It was like the chant had polished my perceptions, opened my heart even more deeply, and reminded me of who I really was.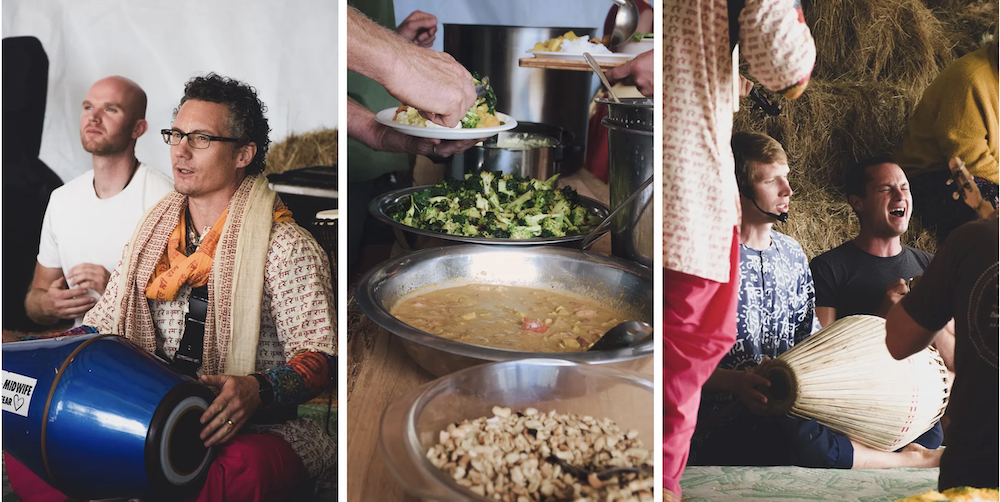 That experience of the 24 Hour Kirtan with the Hare Krishnas is what inspired this event – the 8-Hour Kirtan + Potluck.
I know, firsthand, the power of chanting for extended periods of time.
I know, firsthand, the power of collectively practicing together for extended periods of time.
I know, firsthand, the joys of potluck dinners after chanting.
Food NEVER tasted so good. Conversation NEVER sparkled so much.
I wanted to have this experience again, and so, in the spirit of radical self-responsibility, being the change, and the gift economy… I decided to ignite this event into being.
Of course, I road tested the concept on some trusted friends, including kirtanists, dedicated practitioners, potluck lovers and my favourite party crew.
The response was a resounding YES. Even from those people who don't really chant – they were like, I'll be there. I may not chant, but I will come and soak up the vibes, make the tea, and tend to the fire.
So we're doing it, together, an 8-Hour Kirtan + Potluck on October 28.
This is my proof of concept – if this is a resounding success, I will roll out more 8-Hour Kirtan + Potluck, and I'll support others to do it as well.
What does a resounding success look like?
Firstly, an enthusiastic response from the community to play all the roles – kirtainist, participants, hosts, promoters, media, and sundry support crew.
So far so good on that, but the proof will be on the day – October 28.
The second factor will be the field that is generated on the day – do we access states of bliss, gratitude, appreciation, compassion, generosity and delight? How strong is that field? Does it have a measurable impact on the rest of my street (my house is the venue)? On this town (Thames)?
The third factor is connections and planted seeds. What happens between all the humans on the day as we set up, chant, eat, clean up and take down (and likely dance our way through it all? What seeds are planted? What is woven between us all?
The final factor is satiation, nourishment and flow of resources. Do all people feel satiated and nourished by the experience? Was there a sufficient flow of resources to support the venue, organisations, kirtanists, hosts and support crew? Does everyone feel like they had the opportunity to freely give AND freely receive?
That last one is a big – see, I'm not running this event within the capitalist model. I'm running it within the Gift Economy, for dāna.
Dāna is a Sanskrit word, it's a virtue within the Buddhist and Tantrik teachings, and it refers to opening oneself up to freely give with generosity, and the benefits that accrue from this experience.
The 8-Hour Kirtan + Potluck provides an opportunity for people to practice dāna.
And it is a practice, because it often conflicts with our dominant western programming that insists that scarcity is the fundamental nature of life (it's not), that we must fight to get ours, that you should ALWAYS get as MUCH as possible for as little as possible, and that accumulation is the name of the game.
Dāna operates from a fundamentally different worldview – one that says abundance is the nature of reality, we can trust that life will support us when we learn how to fully open to receive, that giving freely is its own reward and that being a conduit for wealth and resources is the name of the game.
As the organiser, space holder and field generator, I too must practice dāna actively in the lead-up to this event.
Can I freely and generously give my time, gifts and presence to support the realisation of this event?
Not because I'm trying to be 'good', be validated, or because I want to achieve something or prove something… all of which is symptomatic of 'giving to get', which isn't giving at all. No, can I drop into true dāna simply because I want to experience this way of operating in the world for its own sake?
This doesn't mean I undervalue myself, martyr myself, or diminish myself in any way either. That's part of the same 'giving to get' game, in different clothing. I'm excited about this opportunity to practice, and curious about what unfolds between us all!
Once all the dāna, whether cash, trade, or goods in kind, is received, there will be a distribution based on both need and also contribution.
That too is breaking the capitalist pattern, which dictates that the market rewards value (or perceived value), not need.
But if I have a kirtanist who drives up from Wellington, and one who drives over from Paeroa, I will be giving each of them different amounts of dāna to reflect the difference in costs that they would have experienced.
I'm not 100% sure of the formula that I will use yet – it may be a very organic process. But I'm also considering making the financials publicly available (through a spreadsheet) so people can see how the dāna worked.
There are risks and rewards associated with doing that – and I need to do a proper risk assessment before making the final decision. But I love the idea of being transparent and like, here's where the resources went.
So this event is about SO MUCH MORE than simply an 8-Hour Chant + Potluck
It's about the way we self-organise as a community.
It's about the way we distribute wealth.
It's about the way in which we take responsibility for being the change.
It's about the way that we can run experiments on the benefits of extended practice within community.
It's about the intersection between practice and gatherings.
It's about how we generate, sustain and nourish community.
Space for the 8-Hour Kirtan + Potluck is strictly limited – of course! We're going to be chanting in my lounge, with spill-over onto the balcony, plus there will be hangout space int he kitchen, dining room, downstairs lounge and backyard.
If you'd like to be part of this inaugural event, please register your interest now. One week before the event, you'll receive an email to confirm your place, with all the related details.
If you'd like to lead a chant, please fill in this form. I'll be in touch ASAP to confirm your spot.
If you'd like to contribute in any other way, whether with resources or presence, drop me an email.
Because who would you become if you sat and chanted for eight hours?
Who would you become if you were just in the space, and chanted for some of that time?
Who would you become if you came and dropped into this field with me?
Curious?
Me too!
See you on October 28th.
We'll be kicking off at 10:45 am with prayer and invocation before the chanting starts at 11am. The chanting will conclude with meditation at 7 pm, and then we'll eat, hang around the fire, and possibly even dance.