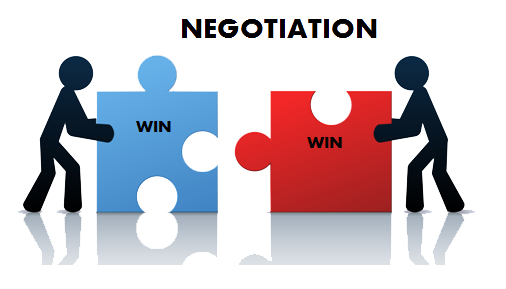 Here's something that many Kiwis absolutely suck at. Negotiation.
Also known as the art of creating a win-win situation by agreeing on an exchange of value that delights all parties.
Case in point.
I have two rooms available for rent right now, which can be rented separately, or together to occupy the entire downstairs of the house.
I put a price on the rental.
Someone expresses interest, I know they need somewhere to live, yet they never follow through with coming to check out the place. I find out through a third party that the price is above their price range.
The assumption they make is that the price is the price. End of story. Move on.
But the price is NEVER the price. Don't ever make that assumption.
Those rooms were empty.
If that person had come and checked it out, decided they liked what they saw, and then made an offer… something beautiful could have unfolded.
It's only ONE example of countless I've experienced over the years so I thought I'd offer some tips on negotiation.
First, open up to the possibility of negotiating, and recognise that it could bring up all kinds of beliefs and emotional imprints including fear. Do whatever it takes to get past that (book a session with me, I can help).
Second, clarify your OWN desire. Whether it's for a rental, a car, an online programme, a mentorship or whatever.
Do you WANT it?
Are you prepared to SHOW UP for it?
What's it WORTH to you?
What price COULD you pay, based on your income and savings?
Once you're clear on that – desire, willingness, value and available resources – then make your approach.
Talk to the person who owns the thing.
Ask them, would you be willing to negotiate?
It will either be a NO, or a YES.
If it's a NO, you haven't lost anything, and you've GAINED practice at negotiation. Move on to the next thing.
If it's a YES… start the negotiation process from the mindset of 'how can this be WIN WIN for both of us?'
Recognise that what you value and what the other person values can be two different things. Sure, money is often the way items are valued, but other resources can sometimes be worth more. Be creative. Maybe you live in an ocean-side property and are going on holiday and you can offer a week of seaside living as part of the deal.
However, negotiation is NOT bargaining – where you're trying to get something for as cheap as possible.
No, it's about finding a MATCH between available resources and value on both sides of the table.
The best negotiation leads to BOTH people feeling great about the decision.
If I have no one lined up to rent out my rooms at my desired price, and someone else comes along and says, I can afford this much, and need something short-term…
I'm likely going to take that amount, for that amount of time, over taking nothing
Similarly, if I have spaciousness in my work schedule and someone wants to do a mentorship with me and makes me a solid offer… If it feels like a YES from me, it will be a YES.
Because it's never just about the money.
It's also about service, it's about the excitement level of working with that person, it's about the difference between doing nothing, and doing something.
Sometimes an offer will be a NO.
Sometimes it will lead to further negotiation.
Sometimes it will be a YES.
But until you get into the game of negotiation… you're never going to discover how FUN it can be to create WIN WIN situations that generate and exchange value.
So next time you find yourself saying, oh I can't afford it. Check yourself. Is that true? Do you TRULY desire it? How much do you VALUE it? Are you prepared to SHOW UP for it? What are you prepared to OFFER for it?
And then – if the desire and willingness it present – negotiate!
Oh – as to why Kiwis often suck at negotiation. You could say it's not in our culture, as sticker prices in stores ARE the prices, compared to other countries like Bali where they might be an indication. But bargaining or haggling over prices is not negotiation. I suspect that often Kiwis are too polite, are afraid of offending someone, or are afraid of being told no. For these reasons, it often doesn't even occur to Kiwis that negotiation is a possibility.
But it is.
It always it.
Oh – and if that's you – too polite, afraid of offending people, and afraid of being told no… I can help. Mentorship is great for working through those kinds of patterned behaviours and beliefs. And if I have space, I might even be up for negotiation… You can practice on me.