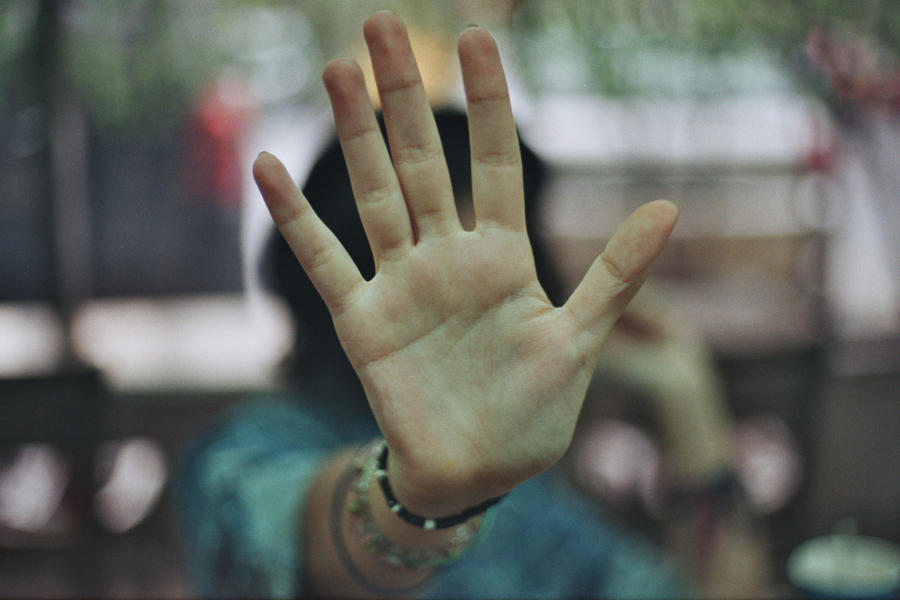 Settle in folks, and let me share a tale of boundaries, as remembered, in no doubt a partial and faulty way.
I'm at an event.
I see a man that I don't want to engage with at all.
I've met him a handful of times and each time he transgressed boundaries and did not immediately respond to cease and desist requests.
In past encounters, if I let him in even a teeny, tiny, little bit, it's VERY HARD to get away from him.
And by "letting him in" I mean, saying hi.
That qualifies.
The dance floor is spacious, at times with only 20 – 40 people on it, and I place myself where he is not.
I avoid sending any attention or energy in his direction – I do not want anything to be misconstrued as an invitation to engage. I absolutely do not look in his direction, ever.
The danger is that I will be hijacked and captured by his energy, his desire, his agenda.
I do not want that.
The night rolls on and it's almost time to leave.
My friend and I grab a seat on the edge of the dance floor to decompress before making our way back to the car to depart.
This man is on a corner of the dance floor, and now heads in our direction.
I absolutely do not want to engage and so play with energy in an experimental manner. It's Boundaries Playtime folks.
I feel anchored, grounded and centred, and I focused on radiating 'fuck off and don't talk to me' energy from my solar plexus.
The man stops right in front of me – I am not looking at him at all, and he moves forward and gets right up in my face.
"Do you know who I am?" he asks.
Possibly he's rationalised my complete unavailability for engagement as indicative of me not recognising him.
I'm terse in response, glancing away, not interested, fuck off and leave me alone. That's the energy – it's not what I say out loud though.
What I say is simply, 'Yes.'
He doesn't take the hint and attempts to engage me in conversation.
I look at him directly. The music is loud. 'I don't want to have a conversation,' I say.
One of my male friends has entered my peripheral vision – he's coming in hot, bearing gifts of chocolate.
The man attempts to justify, and declares that he's not trying to have a conversation with me while restating his comment.
It feels like he's transgressing my boundaries and I don't like it.
It's very different from this interaction with a man on the edge of a dance floor, where he was absolutely respectful of my boundaries.
I glance away again – signalling, again, that this conversation is over.
He finally walks off as my male friend comes up alongside me.
I feel shaky, and as I accept a piece of chocolate from my male friend, I find myself saying out loud with overt force.
'I get to choose who I have a conversation with. I don't have to be nice. I don't have to talk to someone I don't want to talk to.'
It's like I'm trying to convince myself, or remind myself. Because there's a part of me that feels like I was just really mean, or very rude. That my behaviour was not ok.
But it was ok, giving the context and history.
My experience with this person is that if I am in any way nice, open, or responsive that he energetically grasps like a chimpanzee dangling from a tree branch on the side of a 200-foot cliff. (Note to self: Where do I grasp like that?)
My male friend shrugs and glances at the departing male. 'I don't know what just happen, but that sounds like a completely acceptable position. You're allowed to not talk to people.' (I'm paraphrasing, I can't remember his exact statement, it was affirming and acknowledging though.)
While my experience of this other man is of someone who doesn't take no for an answer, who invades energetic space, who doesn't listen or respond to subtle or even overt cues – I also want to point out that this experience is not the whole of who this person is.
It's just the character they happen to be embodying in interactions with me.
I'm grateful for the opportunity to practice saying no, to practice choosing who I talk to, and who I don't talk to, to practice being unapologetic about it, to practice not caretaking his experience in any way. To practice boundaries.
It felt really uncomfortable, interacting in this way. There was still a part of me that wanted to please, wanted to be nice, wanted to make him feel comfortable and at ease.
But no.
Fuck it.
That's not my responsibility.
My responsibility is to know what my boundaries are and to assert them.
My responsibility is to reach out for support if required.
My responsibility is to me, and my experience.
Let him take care of himself.
Trust that he has enough self-reflective ability to make use of that interaction in a beneficial way.
Maybe he does.
Maybe he doesn't.
Maybe I'll be cast as a bitch in his drama.
Again, not my responsibility, not my drama.
I ponder my attempt to use energy to ward off this man. It did not work in this instance – although it might have worked in multiple instances throughout the night, because there were other times when I felt him reaching for me.
Is energy repelling possible?
If it is possible, how does one do it?
And once one knows how to do it, does its effectiveness become an issue of power?
That is, the most powerful person controls the space, energetically?
This is what I'm left pondering.
Boundaries. They're a relatively new thing for me – I always relied on walls to protect me. But walls are not fluid, flexible or permeable.
Walls keep people out. Boundaries let people in.
I'm all about the boundaries now.
My own increasing sensitivity to other people's boundaries feels like a gift.
And, I also want to acknowledge that I have been this man before.
I can remember specific incidents in my past where I did exactly what he has done to me – because I was oblivious, because I didn't care about the other person's experience, because I was attached to my own desires, because I was ignorant and unaware.
Learning boundaries goes two ways.
I'm learning to respect them. I'm learned to assert them.
What's your experience with boundaries? What's your understanding of them? I'd love to hear from you.
Love KL's Writing?
Subscribe to On the Path, her juicy weekly missive