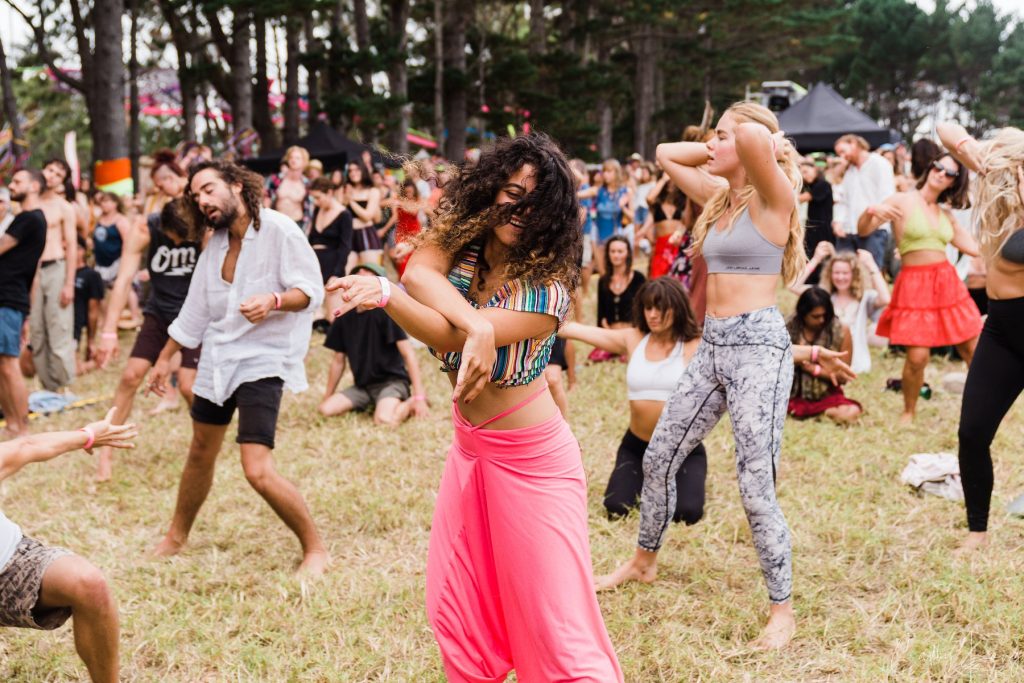 Festival Season officially kicked off in early November with Spring Festival in Pukehina, and the dance floor was WILD, with epic sets from DJ Blase, DJ Jimmy Fresh and DJ Kauri, and all kinds of dance floor etiquette enacted, and transgressed.
When I published an article after that event, Shenanigans on the Dance Floor • A Tale of Boundaries Expressed and Transgressed, it ignited a huge conversation on my facebook page about etiquette on dance floors.
That conversation got me thinking – why not crowd-source an article on dance floor etiquette so that we feel more connected and aligned before all hitting the Festival dance floors this summer?
This is that article – thank you to the hundreds of people who commented and shared!
First up – there was definitely some kickback about the idea of dance floor etiquette, although people got etiquette confused with 'rules'.
There were a bunch of comments on the NZ Spirit Post that said things like 'There are no rules on a dance floor' and 'No rules, just let it flow'. But I wasn't talking about rules – which need to be enforced and have consequences when they're broken. I was talking about etiquette – good manners and polite behaviour.
Although even that definition sounds pretty damn stuffy and uptight – as Giselle said 'Are we going back to the 1920s?'
And Susie has a great point too with her comment:
'I've been on some raucous dance floors and concerts and had a delicious time. Probably wouldn't like to think my kids would be there… But I'm sure they have too. And loving every minute. It's like a rite of passage. Get wild, go crazy!! Yes shit happens…. But rather that than super safe!! I think the etiquette thing might be part of this overly precious time we're living in. Makes me think about the tea dances they had long long ago… Where women had a dance card and allowed men to put their names on it. We're trying to make everything so 'safe' now. And yeah it's a crazier world out there now… But I'm not sure etiquette is going to change anything.'

Susie
No, we're not going back to the 1920s, or tea dances with dance cards. My intention is to look at how we care for each other – how do we stay aware of other people, and their needs and desires, while navigating our own, in a way that is caring for all people?
The wildness and raucousness can ABSOLUTELY remain.
Really, it's about using the dance floor experience as a way to increase our awareness of our own experience, and the collective experience. It's bringing dance and the dance floor onto the spiritual path in a deliberate way.
Anirvan, who is a popular DJ on the Festival circuit summed this up beautifully.
'Dance is a free individual expression but when it is done in group it has to be done in a way that it doesn't affect negatively others and the surrounding environment. By being present while dancing, we can learn heaps about ourselves, our bodies, our minds, both individually and collectively. Be mindful of yourself, the vibe, the space and of others. This applies in life in general and not just on the dance floor.'

Anirvan
This article then is not about laying out rigid rules, nor about controlling the spaces or even about making everything 'safe'. Rather, it's spring board for community discussion, and an invitation to be more aware of how you conduct yourself on a dance floor.
As Drew said. 'This is a human issue. It's about how we human together. We can all be awesome humans to each other if we listen to and respect each other.'
What follows are the topic areas that came up in the discussion, with quotes from those FB posts. I have edited some of the comments for brevity, grammar and spelling.
1. Dance Floor Etiquette • Be aware of your intentions for entering the space
Why are you there on the dance floor? To dance wild? Then find a space where you won't hit other people with flying arms or step on their toes (see below). To find a mate? Make sure you're aware of consent and respectfully connecting with people (more on that below). To admire the DJs skill? To enjoy the companionship of the other dancers? To lose yourself in the sounds? To access and channel bliss, or eros? To give your body a workout? To process some trauma? To light up everyone around you?
Know why you're there, and be aware of how your intentions might or might not line up with the general vibe on the dance floor.
Shin summed this up beautifully – particularly the last line.
'Before going to dance ask yourself what are my motivations for going into this space, do they align with the space and with the majority of the people I want to share the space with? If they don't either adjust your reasons for being there or kindly go and find a place that fits you better or find a self that fits the space better.'

Shin
That's definitely been me – wanting to dance crazy big, and then realising the dance floor is too packed and so having to choose to either go dance elsewhere or dance in a compact way that accommodates other folks.
2. Dance Floor Etiquette • Dance floors are for dancing! Not talking! Or standing around!
Seems self-evident right? No standing, or talking, or drinking, or smoking on the dance floor. Go elsewhere to do that, please!
However, there were a few people who felt that this wasn't always the case, and they made some good points.
Making dancing a rule would deter a lot of people from stepping onto a dance floor. A lot of people struggle with anxiety in social situations, dancing is one of them situations. I wouldn't go to an event where dancing was expected.

Brian
I felt for Brian, because I adore dancing SO much and I want people to feel comfortable, included, and able to find their way to the dance at their own pace. Making dance floors a welcoming space for people who feel anxious about dancing feels really important.
There were mixed feelings about the nature of the dance floor too – is it just for dancing, or is it also for enjoying the DJ or band performance?
On a non-facilitated festival 'dance floor' you're really talking about a concert space – and it's perfectly OK to be in that space and not dance. Plenty of people just want to listen/watch the performance.

Harry
Even the 'no talking' suggestion had a few different perspectives.
This from Femke. She beautifully articulates the nuances of the 'no talking' aspect:
There is always that space at the edges of the door floor where it blends from conversation into various forms of movement – and drawing a hard line as to where a "dance floor" starts and ends becomes impossible to define. How do we even define "dance floor"? Can not a whole festival site be a dance floor? A lot of people attend events as a means of connecting with others – and it can be nourishing to have a conversation with a friend whilst sharing rhythm! If that conversation starts to impact on others experience, or is loaded or loud, or in the middle of the mosh pit etc – then sure, take it to the fringes! Otherwise – I don't feel it tends to be particularly harmful.
And the 'no standing' on the dance floor also had nuances, as Stefano points out here:
Dance doesn't look like anything in particular. You are free to dance in any which way feels true to you, and imho, "not dancing" (i.e. not physically moving your body), is still a valid/legitimate way of dancing.

I often find myself immobile on the dance floor, pausing to tune inwards and have a moment of meditative stillness, before then flowing into a natural and true upwelling of ecstatic movement / kundalini current. In the extreme, and space-permitting, I also like sitting cross legged or in kneeling on the dance floor too. Or at the very least dance on all fours / be closer to the ground.

Stefano
The 'no standing' then generated a conversation about sitting on the dance floor – which is one of my favourite things to do. I find a spot that's right on the edge where I can lean up against a wall or a pole, and sit in a variation of lotus. I'm not the only one who loves to do this – here's what Rachel had to say about this.
I LOVE dancing sitting, especially when the floor is the earth and I can feel the base through my base, smooshing and rocking around like in kundalini kryia. Normalize dance floors where getting down on the ground is all good toooooooo!

Rachel
Based on this input, it appears that when you're on the dance floor, it's ok to stand, or sit, or be still, or be dancing, just be aware of how whatever you're doing is impacting those around you and adjust as necessary.
3. Dance Floor Etiquette • Use of Props on the Dance Floor
It's a festival, so there are guaranteed to be people playing with props – poi, wands, sticks, whips – all the things! The general consensus was to keep props on the outskirts where there is lots of space and less likelihood of whacking people over the head. As Nicola said:
No sparkly whips as they hurt if you're it with one. No twirling sticks or acrobatics. Some of us just like to immerse ourselves in the vibration and not have to worry about being tripped up or clipped by a prop.

nicola
I was at a party recently where there was a sparkley whip right up front, in the general space with everyone else. I noticed that it did put me on edge, because I was half-expecting to be whipped at any moment. In another setting… that might be a pleasurable dance to be having… but in that moment I felt my nervous system on edge. Later, the same person had shifted to the back of the dance floor and I felt way more at ease – like I know had space to work around her, rather than feeling that I had to be hypervigilent against the likelihood of getting whipped.
4. Dance Floor Etiquette • Your stuff on the Dance Floor
Stuff, oh stuff, where for art thou stuff?
Definitely keep your stuff on the edges of the dance floor, tucked away where it won't trip people up. Hannah had some good guidelines for this too.
I try to be respectful of other people's stuff. If you need a drink, and your drink bottle is in a bag that's in a pile of bags, try to put everything back where it was when you're done so they can find their stuff.

Hannah
Yup – that was me at at NZ Spirit this year. I lost my favourite leather bound & handled drink bottle at the bottom of a pyramid of 'stuff' that was gathered around a tent pole. I was reluctant to go digging through the thigh-deep pile and so made the decision to leave it there, and come back later when everybody else's stuff was gone. And yep, at 2am when I finally returned, there was my drink bottle, revealed, because the pile of stuff had been reclaimed.
5. Dance Floor Etiquette • Drinks and Water on the Dance Floor
No glasses (of the drinking variety) on the dance floor! And preferably no cups of any kind – spillage sucks! And, if you do grab your drink bottle and take a swig, Hannah suggests this:
Offer water to your friends if you make eye contact while you're enjoying your water (maybe this has changed with these more virus-conscious times)

Hannah
I'm big on this – so often I'm dancing like crazy, I'm so dehydrated, and my water bottle is at a different stage (see above). I LOVE it when someone offers me a swig of their water.
Of course, there are nuances here too, as Hannah notes. Some people, when drinking from other people's water bottles, free pour the water into their mouth so their lips don't touch the vessel. That's very respectful. And if someone is offering you a drink and you don't know them, and get a weird vibe, don't be polite! Say no!
6. Dance Floor Etiquette • Engaging with People on the Dance Floor
As Femke noted above, one of the reasons people come together to dance is to connect with each other. And, to pick each other up! Yes – it's ok to think someone is hot and to approach them with the intention of of opening up a connection. It's all in how you do it – awareness and respect people, awareness and respect! Jasmine had some awesome things to say about this.
This from Jasmine:
Only engage with someone if they are giving clear and concise signals of being open to engage, ie sustained eye contact, energetic reciprocation, playfulness/curiosity being directed to you. If someone is quite clearly in their own personal space, ie eyes closed or no/limited eye contact, seems standoffish, body language that is contracting or distancing, please do NOT attempt to engage. Respect their need for personal space.

If you do engage with someone on the dance floor and they then choose to disengage, engage elsewhere or distance themselves, please just leave it be and don't keep pursuing unless it's being reciprocated. Clinginess is ickiness. And, if someone is distancing, please do NOT just follow them around the dance floor. That feels so unsafe.

Also, I know people probably look great whilst dancing, but please do not just blatantly stare. I get that we're all sharing space and so can be seen, and it is natural to look at those around you and appreciate people's self expression, but blatant staring can be super uncomfortable and can take someone out of their flow zone.

Jasmine
Or, as Misty said, very concisely, 'You can dance beside me but please don't even consider touching me, or come too close to me.'
Engaging with other people on the dance floor comes right back to awareness again. Michelle summed this up.
Be aware – aware of yourself as you move in amongst the dancers, aware of others around you. Aware of your own need to express and how that interfaces with others. Don't push, shove or just be selfish. Be part of, and be in, the groove. Think spaciousness, sharing on a journey together… just be nice.

Michelle
Francesca added this in, acknowledging that people come to the dance floor to connect, play around, to have fun and to meet – all of which is perfectly fine.
For those more vulnerable or coming to the dance floor for their individual journey, or those less inclined to direct communication, help them to strengthen their network and call a friend when feeling unsafe? I mean we dance together to learn how to relate to each other, no? It'd be sad to see dance floor guardians/bouncers' culture used as a solution

Francesca
7. Dance Floor Etiquette • Know how to deal with Predatory Energy:
Sometimes though, some people will have predatory energy and may not be aware of it.
I've been that person before, when I was 'on the hunt' or 'on the prowl', and not been aware of how that might feel to other people. I'm definitely more aware now – and after reading Elizabeth's excellent comment below, I'll be paying attention if the guy I'm checking out starts dancing real weird!
If someone is space invading in a predatory nature I adjust my dancing from sensual to weird. I'm perfectly comfortable making the adjustment as an expression of non-attachment to form. Dancing weird helps channel the surrounding blockages and encourages the said offender to be informed mystically of the social trespass. You can literally pull the universe above you to reinforce any required safety field. In doing this, healing fills the space. The proverbial sweaty wanker cannot navigate weird very well and usually peels off pretty quickly.

Elizabeth
All of which flows into the next point.
8. Dance Floor Etiquette • How to express consent and desire on the dance floor
Because sometimes we do see someone that we want to get to know better… how to do that in a respectful way? It can be real hard to reach out to someone you think is hot… but it's so important that we feel free and able to do this.
Alana points out the way NOT to do this when she said that 'The only ass you should be grabbing is your own!' Right? I mean… Don't think this is confined to men slapping asses either…
YES!!!! Once in my 20s, I couldn't sit on one butt cheek driving home after so many drunk women slapped and grabbed my ass so hard. It was painful. Being a woman on a dance floor doesn't give a person the right to grab a man's ass and especially soooo hard. Just because they bought tickets to a party and I was the emcee. I think women need to be educated still these days on this.

Drew
Emi had some great suggestions, which she hoped would reach younger people in these spaces, so support them growing into more comfort and ease.
Dance floors can be a very vulnerable space as we have a conversation with our bodies and inner voices. Anything and everything can arise to the surface. We are making choices about how far we surrender into that or play those voices out into the floor around us and those on it. I've seen so much – like coming on to someone by touching them, grabbing their arse, rubbing up, standing in closely front of them so they can't move with out knocking you, copying their dance moves in a teasing way, dancing with their friends but not acknowledging them, flicking your hair in peoples faces, or standing in the middle of the dance floor watching people dancing and not dancing. It usually seems to be very subconscious behaviour but it really is shit when someone is like this. If you accidentally touch someone look at them and apologise or acknowledge it makes a massive difference to the culture. Being on the dance floor is a chance for practising LOVE for all as we are!

Emi
Cripes – copying their dance moves in a teasing way? That's me! I do that… as a way to connect with people on the dance floor. I wonder if that's ever made anyone feel bad. Hmmm… something for me to be aware of!
I know if I can feel a guy checking me out on the dance floor, I will either open or close my energy and body movements to him. I'll make myself 'available' for interaction, or not. I watch for the same thing when I'm interested in someone. And if they indicate openness and availability, I love then allowing the dance interaction to naturally flow.
I love to play with eros on the dance floor – not because I'm wanting to pick that person up, but because it's fun energy to play with. What I've noticed is that its women I feel more comfortable about doing this with – they know the game and what it's about whereas I feel like men might 'get the wrong idea'.
If I am curious about interacting with someone, I'll wait until I see them move to the edges to chill out, or grab a drink, or chat, and I'll seek an opening then. Sometimes that can be as simple as standing beside them and smiling.
9. Dance Floor Etiquette • Be aware of Space and the Impact of Interrupting Someone's Flow.
This flows on from engaging with people, dealing with predatory energy and expressing consent and desire. Again, it's all awareness, or as Karencita said 'Please don't step on others while performing your 'dancing with the stars' moves.'
Luna had a GREAT point to make about flow as well.
If someone is in a deep flow, clearly having an epic time, leave them in their flow and don't interrupt. Yes, they probably look really attractive at that moment and you want some of what they're on but damn it's frustrating hitting the flow state and having people come interrupt it! You wouldn't believe how much this happens when you're using a hula hoop or other prop, melting into unity and flow then someone has to come to tell you 'wow you're great" or something else and interrupts it.

Luna
Being aware of space is also about how you move through the crowd to find your sweet spot. Here's Lewis on that:
When you make your way through the crowd to get to the front to see the performers and find a spot you like or find your friends… Don't be ignorant of the people you've stopped in front of or even try and reverse into them to make room for yourself! Be courteous and acknowledge them and maybe ask if it's OK to stop there but don't infringe on their view or space to please yourself.

Lewis
10. Dance Floor Etiquette • Be willing to be fierce, or have people there who have your back.
This was an interesting point, and brings up a deeper conversation around what it means to be fierce as opposed to violent. I know that when I dance in particular places as a dancer, I really value having one of my male friends along for the ride so I've got back up.
Here's what Lev said about this:
Have friends that are willing to throw punches with and/or for you. It's a vibe. Rarely does it have to be asserted. I think men sense it, and I do not think everyone reading this needs to hold this energy, but it's great if its around. It makes a space feel strangely safe, when that energy is grounded. We are all powerful, and we all have potential to do harm, but can choose to restrain it.

I've danced in inner city Oakland clubs where there are 3.5 murders/week, and I've danced in the California music festival scene, with trust fund hippies. I honestly don't see as many boundaries disrespected at the former.

Predators cruise about with all kinds of hustle when they can get away with it. in Oakland clubs, people think twice. No means no and it could get explosive.

I know this won't be a popular sentiment but if fools are not respecting boundaries, they can understand fierceness. Respect is a code in such context, that needs maintaining and reminding as a shared value. Not to make drama, but not to ever be disrespected or turn someone else's problem into our defeat. I got your back and any of my friends if needed. Safe spaces

Lev
I liked this input because it is easy to get all Love and Light and Unicorns shitting Rainbows when we're talking about spirituality and associated events. Being in touch with our animal nature, the inner warrior, and being able to physically stand our ground, or have someone who has our backs, it also important.
11. Dance Floor Etiquette • Cellphones. Don't film people! Don't talk/message!
I remember going to Sandwiches in Wellington in about 2009. It was the first time I'd been in a club since my dancing days in Canada pre-2004 and I was gob-smacked by the number of people on the dance floor with a phone. It felt like it completely disrupted the cohesiveness of all dancing together and I hated it. I immediately started fantasising about a club where everyone had to 'check' their phone at the door.
Now too, there's the added element of not knowing if someone is filming your dancing and it's going to end up on social media.
Femke summed this up nicely.
There's something about cell phones too… Whether it's people filming (which is likely to breach various forms of consent, especially in spaces like an ecstatic dance where people are freely expressing… And may not want to be captured in that), all the way through to people having ongoing text chats, or looking up and over a crowd and just seeing screeds of phones held up. I'd love to be dancing more without a phone in sight!

Femke
So next time you're on a dance floor and want to film it… maybe pause and really feel into the appropriateness of that – particularly if you're going to post on social media.
And if you do need to use your phone, take it to the sides…
12. Dance Floor Etiquette • Personal Hygiene, Sweat and Chemical Fragrances.
Oh this was a conversation that got juicy! Sarah kicked it off with a simple suggestion to 'use deodorant to avoid terrible body odour.'
Then Lulu, Whakarongotai and Simon got into a great conversation about sweat. What I loved about this is the way they listened to each other, were responsive, and negotiated and navigate their collective needs. It exemplified how to communicate with care. Yeah team!
Arrive clean and fresh and, if you sweat a lot, don't shake it all over me and leave a slippy slick on the dance floor.

Lulu
Fair enough, but then Whakarongotai chimed in with a great point.
How does one appropriately dance with full expression while naturally sweating? No flinging or arms or head? How does one enjoy the "zone" when stopping constantly to grab a towel to clean up after them every time they feel the call to express on the ground? I have definitely felt resistance to being sweaty in the past and am now enjoying being one of those sweaty bodies flinging sweat droplets on the dance floor. I know I wouldn't want a hug or contact from a sweaty body as I'm warming up into my dance but it does surprise me how once I'm in the "zone" my resistance falls away and I can fully receive myself and others profusely sweating on the dance floor in our natural glory.

Whakarongotai
Notice how Lulu's response is kind and considered, and also continues to express her desired boundary.
OK. On a wooden floor, a combo of sweat and sunscreen and the various oils and products people anoint themselves with is a risk'.. slippy and also a bit gross. Combined with BO from poor hygiene the dance floor can get quite funky. I'm super sensitive to this kind of thing and it can totally kill my buzz. Out in the paddock, dancing ecstatically in the sun at a festival… Different scene. Fresh sweat is sweet.

Lulu
Lulu's moving towards Whakarongotai's position about the glory of sweat under the right circumstances opened up this comment.
I agree, on a wooden floor sweat and oils is slippery and time can be taken during dance to grab a towel and wipe up an extra sweaty puddle, all in flow with the dancers natural timing. Yasss to nature dances and yes to fresh sweat!!

Whakatrongotai
Then Simon got in on the action with this awesome comment.
Thanks, Whakarongotai for opening this kōrero, anyone who has seen me dancing knows I am one of those sweaty beasts, sweat trails, raindrops of sweat flying everywhere, puddles, literally if I dance in one spot for a while!

I hear you Lulu Gypsy , flying sweat doesn't feel good for you, and sweat slicks on a shiny floor can be a hazard. The problem I grapple with, is that for me dancing with full expression is a powerful transformational meditation, a prayer to the divine, a movement of life energy, healing, nourishing and empowering. When I dance, I sweat, a LOT. I have battled with feeling self conscious knowing I leave a sweat trail wherever I dance, knowing it grosses some people out but this is me, being me expressing, releasing and transcending the bullshit stories that have held me back in life.

At times, I am moved with an added effort to contain my sweat, sometimes, I'm lost in the process, the sweat flies freely and nothing will stop it, so if you don't like sweat and you see me dancing, keep clear

In a closing circle at dance the conversation on sweat came up and the space holder Zsuzsanna Love shared the following views of Gabriel Roth, I like this, a lot

Simon
"To sweat is to pray, to make an offering of your innermost self. Sweat is holy water, prayer beads, pearls of liquid that release your past. Sweat is an ancient and universal form of self healing, whether done in the gym, the sauna, or the sweat lodge. I do it on the dance floor. The more you dance, the more you sweat. The more you sweat, the more you pray. The more you pray, the closer you come to ecstasy.

Gabrielle Roth, Sweat Your Prayers
Finally, there were also some requests of things to DO with dance floors.
Normalise vocalising as part of the dance…for some, the throat needs the muscles moved too… there'd be less cognisant talking I reckon.
Make integrating children, tweens and teens into dance spaces matter.
Hosts – please please disrupt the 'everyone centres their front to the stage' shtick… maybe sometimes veil the musicians, wrap and project sound from corners, floors, top-down, and create other foci, so that the energy generated can circulate in other ways than is boxed by 'staged mentality'
There was also this request for more contact from Lyndal.
I teach contact dance and wish there were more opportunities for contact dance on N.Z dance floors. In an ideal world people would attend a workshop during the day then take their new moves into the dance floor at night. The rules always are , eye contact first and then you ask if another wants to dance with you, a NO is arms crossed in front of you.

And yep you need a lot of space for contact and a soft floor helps. You don't want to crash into people. I do feel there should be opportunities to connect safely through dance though. And more room for contact dance at our festivals. We can't all be zombies dancing alone staring at the d.j in our own little words all the time. There is no 'sexual touch' in contact dance. It is simply two humans sharing weight, counter balancing and moving as one. If people get turned on they have to step out.

Lyndal
So there you have it, folks – an in-depth article on dance floor etiquette, crowd-sourced from the NZ Spirit Tribe community, and those who follow my FB page. Thank you so everyone who contributed. I'll see you all on a dance floor soon!
Love KL's Writing?
Subscribe to On the Path, her juicy weekly missive