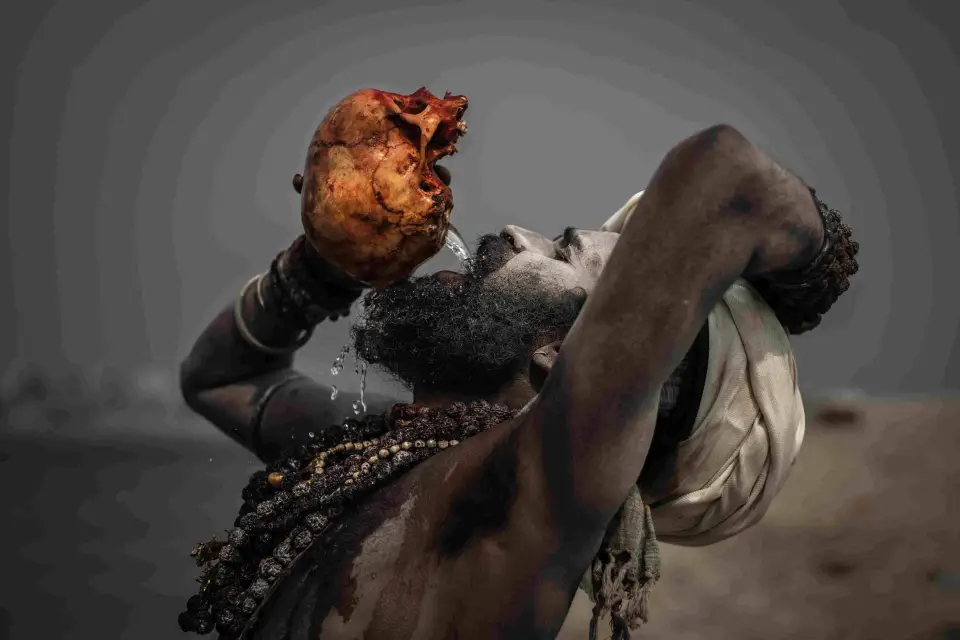 I'm following a breadcrumb trail, and it's led me to the Aghori.
After the gruesomeness of watching the horror movie Midsommar last night – which is a nuanced and insightful look at grief, trauma, trauma-bonding, gas-lighting, ignorance, attachment, community and cults – I found myself on the FB group Tantrik Yoga Now on a post dedicated to the Aghoris.
This is a particular Tantrik sect which uses extreme methods to break through conditioning and therefore self-realise.
I'm familiar with Aghoris and their practices as I read a book about 13 years ago called Aghora: At the Left Hand of God by Robert E. Svoboda.
Nik Robson later gave me the second book in this trilogy.
That book was party of what began opening me up to Tantra, way back in about 2008 or 2009.
Some of the practices of the Aghoris include drinking and eating from skulls, meditating on corpses and even eating human flesh. That didn't revolt me – it made me curious.
On the Tantrik Yoga Now post linked to a few documentaries, and I saved them all, and chose one to watch last night – AGHORI – Holy City Varanasi by Reza Aslan.
As always, I incorporated watching this documentary into my practice, working with the Tantrik principle of continuity.
I sat in front of my altar, candle lit, with my laptop off to the side, and watched the doco whilst in non-conceptual meditation, and also working with Guru Yoga practice.
What I noticed was that right from the start, was that my body started going into spontaneous kriya – something which happens often and is no big deal. But it was stronger than it has been for a while. There was internal movement of bandhas and a strong sense of Shiva. I felt pulled into practice, and meditation in a specific way that was spontaneously unfolding.
Watching the doco felt like such a gift – to have that kind of entrance into Varanasi (I've never been to India) and the world of the Aghoris, through Reza Aslan's reporting. And he was fascinating to watch as well.
I was struck by how he was attempting to 'get his head around' what he was experiencing, demonstrating that he is still perceiving reality through the function of the mind, and not directly through felt experience.
This is normal of course. It's how most people experience reality.
These interactions with the Aghori also show how Reza Aslan's fascination with the world's religions hasn't necessarily led yet to embodied realisation.
And yet, at the same time, there was a definite shift in his experience by the end of the documentary. In the final scenes where he showcases putting faith into practice, eats the ashes of the dead, drinks the water of the Ganges and worships the God within him, he looked and felt more embodied and alive than at the beginning of the documentary.
Although… when he's sitting in meditation posture… I'm like, someone get that man a cushion! The spine is collapsed, the knees popping up, the arms limp… but hey, I'm nitpicking.
This parallel journey – of Aslan's reactions and responses to the Aghori, and the Aghori themselves, was fascinating to watch.
And of course, I was also aware simultaneously of my own reaction to what was unfolding – both to Reza, and the Aghori.
The beginning of the doco focused on the caste system, and particularly on the plight of the Untouchables.
They are the ones who operate the cremation grounds that line the river Ganges. Aghoris completely reject the caste system as a form of social conditioning that is just a construct. Stepping into that world through the eyes of Aslan triggered a strong sense of privilege within me – that I was born this time around in New Zealand, into this culture, with these freedoms. Out of that I felt a sense of duty or obligation to use this privilege in service to all beings. I felt touched, and opened.
There were three main kinds of Aghori that the doco focused on – a gentleman who lives on the banks of the river and delighted on messing with the Western tourist by eating his shit right there and then, an older gentleman, Lalibaba, who now lives in his own temple and is more moderate in appearances, and an organisation that focuses on running an orphanage and schools where all children – regardless of caste – are given equal opportunities for education.
The essence of what these Aghoris believe and practice is all the same, yet the expression is different. These differences are eloquently explored in the doco.
I loved watching the campfire scene with the riverbank Aghori. There was the Westerner (Aslan), ignorant and oblivious, trying to 'get' information, without realising the deeper nature of reality and how to communicate in an interbeing way.
And of course, the Aghori seeing right through it all and refusing to talk until Aslan had bathed in, and drunk from, the Ganges.
Cue many shots of the pollution and filth of this river.
Reza though, bless him, finally takes the plunge – through gritted teeth and held breath. The camera shoots him from behind so we don't see his face expression when he emerges up and out of the water again. The implication is one of calmness and surrender, but I'm sure if we saw his face, that's not what was happening. He was grimacing and recoiling.
He'd immersed, yes. But he hasn't immersed, no.
And the Aghori saw that, and responded by deliberately provoking Reza's conditioning and perception of reality. There's a point where Reza is freaking out – he doesn't feel safe, and he wants to leave. He leans over to talk to the director, who persuades him to ride it out and see what happens.
Cue Mr Aghori taking a shit whilst standing, into his hand, and eating the faeces.
And now we're running – fleeing the scene, freaking the fuck out.
Reza says 'I'm pretty sure that's not the Aghori I was looking for'. He later dismisses what unfolded as 'theatrics' by a crazy, drunken Aghori. There is no self-reflection on what might have been happening on a deeper level, nor on the teaching that was available in the moment.
It sums up so beautifully the Westerner's search for awakening and liberation. I want to do this thing, as long as it shows up the way I want it to show up, and I can engage with it the way I want to engage with it. This thing has to fit into my comfortable box.
Cue the commodification of spirituality as people scramble to deliver teachings and practices in a way that is palatable for 21st Century folk.
And yet, there is also a middle path here – where the teachings and practices are presented in a way that maintains integrity whilst also being responsive to the changing needs of 21st-century householders.
The modern sects of Aghoris that Reza also talks to follow the teachings of Baba Bhagwan Ram Ji. He was focused on attending to social ills, and opened clinics and schools all across India that disrupt the caste system. It's explained by one of his disciples that Babaji created some guidelines designed to make it easier for people to reach the Aghoris 'so then you can help them'. The focus is on service and what's needed to make that service happen.
In conversation with this disciple, Reza receives some beautiful teachings on the nature of mind, of living within concepts, and of projections. Not sure if he received, or got what was being offered though…
And that's the thing… here's this guy, who is a religious scholar, traipsing around meeting all these spiritual folks, but he's limited in his perception of reality, so even when the teachings are there, he can't necessarily perceive or receive them.
This is totally ok – like you and me, Aslan is just another version of Lord Shiva, delighting in his expression through that particular vantage point of humanness. I feel so much gratitude to Aslan for going on this journey, and sharing it with us, so that I could step inside this world form the comfort of my own home.
The final scenes, where a number of people speak directly to camera about their beliefs was worth gold. I loved seeing and feeling al of these different people – humans are extraordinary!
Would I watch this again? Yes
Would I recommend it? Yes
Would I write a review on it because I loved it so much? Yes!
Love KL's Writing?
Subscribe to On the Path, her juicy weekly missive