by Kara-Leah Grant,
This article has been a long time coming. Given that Canada has just legalised cannabis, and New Zealand is finally having a referendum on legalising it in 2020, it feels like now is the time.
The danger in writing about the gifts and risks of using plant medicines, whether recreationally, ceremonially, or for healing purposes, is that one can be accused of promoting the use of illegal drugs.
This means it can be very difficult to find accurate, authoritative, wise guidance in using these substances – which people are doing, and will continue to do whether they are illegal or not.
So the intention of this article is to provide practical, useful information designed to guide people who are tempted to use cannabis, or are already using it. It may also stop those most at risk of psychosis from using it foolishly.
All the information I share is from my own direct experience and observation unless it's otherwise noted. And to that end, it is useful for me to outline my history with cannabis.
I was 19 years old before I even tried weed, and I used it infrequently, recreationally, when it was on offer. I moved in circles where it was commonly available, and no big deal.
The first time I ever remember having my own supply was when I was living in Whistler, Canada, at about age 25. I bought an 1/8 ounce which lasted me about three months or more. The only time I ever smoked was when I'd come home late at night (usually after working an eight-hour shift as a waitress at the Longhorn Saloon), smoke a tiny amount in my one-hit pipe, and lie in bed listening to trance music on my MD player. (Yes, this was about the year 2000!)
This was also the first time I started to experience trance-like states or journeys with weed. As I listened to the music, I would 'see' in my mind's eye landscapes that I was flying over the top of which mimicked the music I was listening to – as if the music had become a landscape.
Four years later, I went to Shamballah, a four-day music festival near Nelson, BC, with my fiance. We were in a super-challenging emotionally-raw time, and over the course of the Festival, I took the usual cocktail of drugs. Not many, compared to people around me, but often.
There was ecstasy on the Friday night, mushrooms on Saturday night, and acid on Sunday morning. The acid, followed by a yoga class, triggered an Awakening (see my book Sex, Drugs & (mostly) Yoga for more on this). By Sunday afternoon, my fiance wasn't talking to me, and I was disassociating from the emotional pain this caused.
The awakening slowly headed towards psychosis over the next five days.
During that period, I distinctly remember smoking weed twice. Once on the Sunday night at the Festival, sitting cross-legged by myself on a blanket, staring at the moon. And once on the Thursday night back in our home in Whistler. That second time amped up the altered state of consciousness I was in, and that night I couldn't sleep at all and found myself going into trance-like states where I was climbing through the centre of the earth from Canada to New Zealand and having to navigate past the Spider from Lord of the Rings.
On the Friday, I went deeper into Trance and began speaking in a strange language (possibly ancient Egyptian) and doing prostrations to the Sun God Ra. That was when my fiance decided to take me down to Lion's Gate Hospital in Vancouver, and I was admitted to the psych ward with psychosis. (More on that in my memoir.)
I stopped smoking weed after that, terrified of inducing another psychosis. At least, until I was back in New Zealand, living with friends, close to family, and getting my life back together. The first time I smoked weed after the psychosis I was in a hot tub with friends, and had the tiniest amount… just to see… and nothing happened. I was good again. That would have been in late 2005.
Between 2005-2009 I smoked off and on, recreationally, and also because I discovered that marijuana relaxed some deep tensions in me that made life bearable in the midst of some strong stressful situations. I began to observe, and work with its impact on my nervous system and thought patterns.
I stopped smoking in 2009 because I got pregnant, and I didn't smoke again for 6 or 7 years. I was no longer in those stressful situations, my daily yoga and meditation practice was ramping up, and I didn't want to do anything that altered my consciousness around my young son.
About two years ago, I started smoking again. And this is when it got REALLY interesting.
My #1 focus in life is liberation in this lifetime – self-realization. My path for this is Kashmir Shaivism Yoga – I practice every day, sometimes for hours, and my daily life is also practice. Every moment – practice.
This dedication to practice, plus the kundalini awakening I experienced in 2000 and 2004, has shifted my perception of reality significantly. My operational default is the Witness – not the Mind.
Most people live in their minds, thinking about things, including what's happening right now.
Shifting into presence, or the Witness, means I no longer think 'about things'. Life just happens through me. And from this place, when my mind IS thinking, I'm witnessing it thinking. I watch the thoughts like watching a movie, but not getting sucked INTO the thoughts. (Most of the time… it's still a practice!)
These two things – daily Tantric practice plus living from the Witness – have changed my experience of smoking weed enormously.
Now, when I smoke – and I micro-dose – weed drops me instantly into a trance-state, or an altered state of consciousness where I have access to a deeper realm of consciousness. I do this usually within the context of practice – that is, I smoke, and then sit and observe the fluctuations of my mind, whilst feeling the movements of Kundalini around my body. Marijuana increases my sensitivity to subtle feeling sensations so I'm able to feel more deeply what's happening in my body AND my subconscious.
When I started doing this as a serious practice – micro-dosing plus practicing at the same time – I found I was entering into some of the same states as I did with my awakening /psychosis. The difference this time was that I was grounded, able to maintain the Witness, and had context for what was occurring.
When I went into psychosis, I was under severe emotional strain, the Witness was weak, I didn't know what was happening, and it triggered fear and terror in my system. The fear and terror accelerated me into psychosis because they caused dissociation.
Once I realised that marijuana plus practice induced trance-states, I began to consciously explore this terrain of consciousness.
I did so incrementally, cautiously, and with strong attention paid to anchoring, grounding, and the witness.
It felt like there was a cord, like an umbilical cord, that attached my awareness to my body and anchored centre, and as long as that cord stayed strong, I could explore these realms safely.
The further I moved away from my anchored centre, the more fanciful and deluded the thoughts moving through my mind became. It was like flushing out the last remnants of psychosis from my system. I witnessed those thoughts, and trained myself to track them down to their origins – the beliefs or feelings or trauma that was giving rise to them. Once I found the origin of the psychotic thought, I was able to do the necessary healing, feeling and releasing work on the belief, feeling or trauma. Then that particular deluded thought disappeared.
I was methodical in my approach to this, scientific even – I took notes during the trance states, so I could track the fluctuations of my mind and the psychotic thoughts.
And, over a period of a year or so, the number of psychotic thoughts began to decrease as I attended to the root causes of those thoughts. The fluctuations of mind became more stable, and the territory of my psyche – both conscious and unconscious – became more and more familiar.
I was able to map certain phenomena that happened when I was stoned, and ascertain exactly what the phenomena was – both in me and in other people, as I experimented with going into trance-states in the company of friends.
At times, I experienced past-life trauma, karmas releasing, and my own shadow and darkness (which felt like finding the devil inside!). I was also visited by Gods, friends, teachers in my lineage (both dead and alive), and loved ones. When I say 'visited', I mean that there were experiences where I could feel their 'essence' within me and we had 'dialogues', which sometimes led to big healings and emotional releases. I also began to consciously work with ongoing clients in this manner. Some of these experiences were spontaneously corroborated by friends and clients, who felt me visiting them on the subtle realms.
It became clear to me that my psychotic experiences in August 2004, and September 2004, were the spontaneous onset of a natural gift at accessing the subtle realms, and being able to 'travel through time and space'. This was combined with the impact of Kundalini awakening, and my serious yoga practice, which leads to the dissolving and unwinding of samskaras (blockages) in the system.
For example, often when I drop into trance states (whether with the help of cannabis or not) the first thing that happens is that my breath changes and my body relaxes, and then my breath begins to move my body in ways which lead to the release of long-held tensions. When that tension 'pops' or releases, there is often a flash of insight that arises, or glimpses of a past life experience, or a long-forgotten memory from childhood that arises.
Now, if I wasn't able to stay in the Witness, and had no context for these experiences, and was afraid or terrified even… I would end up back in psychosis.
Instead, thanks to yoga and the yogic perspective of the Universe, I stay grounded in the Witness, and have context for what I'm experiencing, and feel comfortable and at home – and guided by Kundalini herself.
What does this mean for other people using Cannabis?
First, recognise that marijuana is a powerful plant guide just like peyote, or ayahuasca, or mushrooms.
Second, recognise that if you have a natural ability to access trance states you are far more likely to experience psychosis if you smoke weed.
Third, if you have experienced psychosis as a result of smoking cannabis, it doesn't mean that you're mentally ill necessarily. It does mean that you might have a natural talent for accessing the subtle realms and that you need to be properly trained and guided in how to do this safely.
Fourth, if you have experienced psychosis caused by other factors, be VERY CAUTIOUS about smoking weed. Unless of course you have properly prepared and trained, and have support and guidance on the journey. Then, still, be cautious!
Five, realise that when you treat Cannabis with the honour and respect it deserves, the plant guide can open many doors of perception and insight.
Six, always smoke with intention, because one's intention and presence greatly amplifies the power of the plant to heal and guide.
That last point is important, and it's why I no longer smoke weed "recreationally".
Recreationally smoking is an oxymoron – smoking cannabis means connecting to the spirit of the plant, which means going on a journey to release blockages and retrieve wisdom.
This can be done in the company of other people, whether or not they are journeying too, and it can be done within the context of a social gathering… but no longer is smoking weed about 'getting out of my mind', or enhancing my senses. I no longer live in my mind, and my senses are already heightened.
In this way, I do see cannabis as a gateway – not a gateway drug to harder drugs – but as a guide that can help us shift from living in our heads to embodying heart-felt presence. However, it can only assist in this way when we intend it, when we honor it, when we respect it, and when we learn how to surrender to its guidance.
Plant wisdom has long assisted humanity, in a myriad of ways. Now is the time for Cannabis to take its rightful place alongside the other plant guides like ayahuasca, peyote, and mushrooms. If we're going to legalise it, let us also honor and respect it, and use it with wisdom.
"For us, cannabis is about the divine feminine. It's about union, it's about peace, it's about compassion, tenderness. It's like the Great Mother. Our intention is to take this plant back from its misuse and put it at the altar of the Mother – consecrate the use."- Mariano Da Silva, Brazilian Ayahuasquero, Cannabis and Spirituality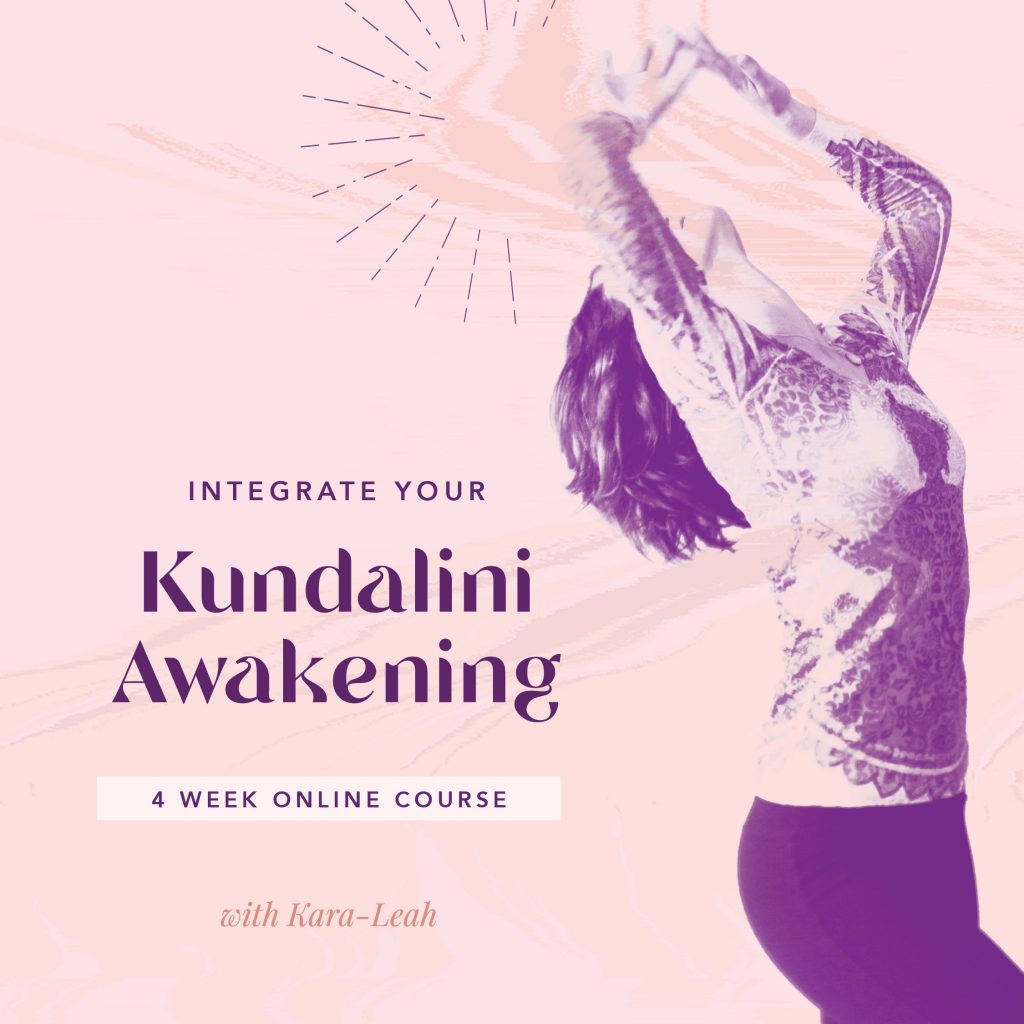 Start Anytime
Join Kara-Leah on a 4-week course & explore the roadmap and practices necessary to integrate YOUR Kundalinī Awakening. Discover how to avoid the traps, obstacles, and pitfalls along the way. Meet the challenges of Kundalinī Awakening with ease and make the most of the energy and wisdom now available to you.
Online | $108 NZ